Corporate Anniversary and Annual Day
For a successful business, one should admire the sayings of N.R Narayana Murthy once stated; "when you are in business for a long time, you go through good times and bad times. When you go through bad times, you learn to control costs, satisfy customers better, satisfy employees better and become more transparent. Thus, you build character in the company". Every organization has a particular date that is celebrated annually as Anniversary and Annual Day to commemorate its beginning.
The Anniversary and Annual Day of a company is a special holiday and a reason for a grand celebration. It's natural for any company to want to organize a celebration for their Anniversary or its employees. This is the most important day in the company's history. So how do you host a fantastic employee event. And understand how to celebrate an anniversary of a business to satisfy everyone? The Hire4event have all the answers related to corporate anniversary event management.
The company anniversary-
Company anniversaries are among the most important corporate events, and these are often attended by partners, customers, invited media representatives, and more. Usually, the Anniversary is the culmination for closing up the year or starting a new season. Anniversaries may be organized annually, which is quite often. This is why large companies are looking for various ways to celebrate a company anniversary and will hire professional, large-scale organizers to assist them.
Why you should celebrate a company's Anniversary ?
The Anniversary of a company is an excellent opportunity to gather the whole team together to remember how it all began, dream about the future, and have fun. On the day of the company's Anniversary, you can discuss important company information in a non-formal atmosphere and eat and drink. If you want everyone to work at a corporate level to create a real holiday, then these event ideas for a company anniversary are for you.
Relationship with Clients-
This is a kind of anchor that works for everyone. Different company employees and clients may have various milestones, countdown times, and results. Someone should focus on the conclusion of contracts, someone on the completion of the next project, someone on the delivery of tax returns or paychecks, someone on services and products. An anniversary unites everyone for a fun celebration.
The morale of the Employee-
As a rule, this is the date of the founding of the company, and the fact that employees know and celebrate this day is an indicator of high corporate culture and relatively active employee involvement. This also applies to small, young companies since each year is often challenging and, as a rule, marked by significant events. Team building activities are great activities to bring the team into the next year as these sides can rejuvenate your employees. It creates the 'team spirit when well planned and performed. It also leaves a highly driven impression for them. They can generate an ideal job for your business, and in a different, more favourable light, they can see their teammates.
Motivated Employees-
Everyone wants to feel appreciated, and a corporate event is a great way to let your valuable employees know that you honour their hard work and dedication.
Quite often, there is a perception that personnel at the higher levels in an organization get perks that others might not, which make them stick with and feel appreciated by the company. However, other employees, who are working more behind the scenes, also want to feel valued by their employer.
Your company culture leans towards the traditional if you're in a cutting-edge field. An event planner can help you organize anything to ensure everyone has a chance to celebrate.
Marketing of Your Brand
The company can distinguish several different target audiences. Each of them has their idea to celebrate a company anniversary and how to participate or observe the Anniversary. You can provide a choice. It all depends on the existing corporate culture and proper communication. However, an anniversary is always a good time to increase brand awareness and popularity.; By surveying the audience and measuring the company's effectiveness over the past year.
Promote business and sales
From a quantitative perspective, the main benefit of these events is that they permit sales to increase the business.
Despite the increase of new technologies and the virtual environment, face-to-face interaction continues one of the most efficient ways. To get fresh clients and concluding sales contracts.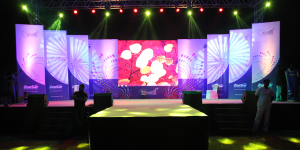 A company's 10th Anniversary or 20th Anniversary
With only about one-third of all businesses making it to the 10-year mark, this is a significant achievement for your business. Both large and small companies' 10th anniversaries are great occasions to celebrate. You can look for ideas for celebrating a business anniversary of any size. For any suggestion in terms of corporate events, get in touch with the best event organizer; Hire4event.com . They put every piece of the marketing strategy of your company in Corporate Anniversary and also leave memorable experiences.
If your business has made it to its 20th Anniversary, this is a significant achievement. Celebrating your corporate Anniversary cannot be successful without finding the best ways to seek creative ways to celebrate a corporate anniversary. And become a sensation in your location or worldwide, get a mention in mass media, and have a good time.