Why your Company Needs a Sports Day?
Sport is a powerful medium that can bring corporate employees together as a tight-knit team. Sports also imparts the essential skills of teamwork, team spirit, leadership, time management, decision making, cooperation, and ethical behavior. This is the reason why Sports Day is a best thing to organize at corporate places.
Physical activity and sports integrated into the corporate work life give the employees a fresh lease to life. And an entirely new feel of the organization with team spirit and camaraderie and teamwork at its best.
Corporate Sports Engagement is an excellent method for employee engagement and to learning from behaviors in the game. Outlife adds the concepts of sports spirit, experiential learning, and game theory to create high engagement and learning through sports-based activities. ​Hire4event handles all the corporate sports and activities through the excellence knowledge and best experience in the industry.
Here are reasons by Hire4event that a company should introduce an office sports day.
It allows your team to get to know each other better.
Many businesses tend to do team building operations on a corporate away day once a year. And then forget the remainder of the moment about them. But it's essential to make sure that your team has consistent opportunities to maintain and build upon their relationships. By making your office environment more friendly and harmonious.
And what better way to get to understand each other than on a sporting office day for your squad. It's an excellent opportunity for employees to get away from their desks, change up their mindset, and make more personal connections.
Office sports days are also a great way to welcome fresh team members in a relaxed and humorous setting. When you join a new business, especially one with more than 50 staff. It can be very daunting – how do you remember the name of everybody for a beginning.
Sports day is an opportunity to break down corporate obstacles and shine through your character.
And the opportunities for bonding extend far beyond the day itself. Try to round up willing team members to exercise, or spend your break looking for ideas for sports day matches, if you want to become extremely competitive with it.
There are some hilarious old school sports day games to be found, such as welly throwing, tug of war, and the famous three-legged race. Plus, team bonding is inevitable when they tie one of your legs.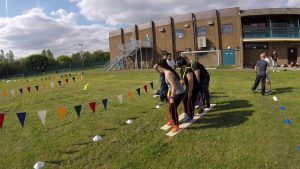 It encourages a little (healthy) competition.
'Competition' at school sports day probably meant someone in the year above running faster than you in the 400m and then taunting you afterward in the changing room.
Luckily we've all grown up (a bit) since then and can now recognize that a little competition can be a healthy and motivational addition to the workplace.
Competition is part and parcel of their everyday life for many working in sales-based positions. So office sports day is an excellent opportunity to bring that go-getting attitude out onto the playing field.
For those who don't get much of an opportunity, to be competitive at their desks, it's a chance to bring out an ambitious side that you didn't know you had. Before you know it, you'll be delivering motivational speeches to your team on the sidelines, and lifting that trophy aloft.
It boosts productivity and concentration levels.
It's a natural thing that regular exercise helps you to concentrate better and for longer. According to a study published in Harvard Men's Health Watch, steady, intense exercise stimulates brain regions involved in memory function to release a chemical called BDNF, or brain-derived neurotrophic factor.
This natural substance improves the functionality of the brain cells in your memory circuits – ergo, better memory, better concentration, better productivity.
Aside from the brain-boosting benefits, regular exercise also boasts a range of physical perks, such as improved energy levels, lower stress levels, and a healthy heart. These advantages extend well beyond the pitch and also far beyond your desk hours. What should you lose?

It's a chance to try new skills (or build on existing ones)
Perhaps you've always wanted to join a volleyball team but never quite plucked up the courage? Or maybe you ever sat on the side of the athletics track, desperate to join in but not sure how to go about it?
An office sports day is an excellent opportunity to try all the sports that you've always wanted. To turn your hand to, but perhaps been intimidated by your lack of experience.
Sure, there will be some colleagues who have played individual sports for years or are elite athletes. For them, office sports day is a great chance to build on to learn leadership skills within those sports.
For any queries related to corporate sports day or annual sports anniversary, contact Hire4event.