"Making a Statement: Unleashing Creativity with Corporate Event Backdrop & Décor Ideas"
Corporate events often require professional and eye-catching backdrops to create a lasting impression on attendees. Here are some creative backdrop ideas to consider:
1. Branded Step and Repeat: Use a step and repeat backdrop featuring the company logo and event theme. This classic backdrop is perfect for photo opportunities and enhances brand visibility.
2. Digital Projection Mapping: Transform a plain backdrop into an interactive visual experience using projection mapping technology. Display dynamic graphics, animations, and brand-related content to captivate the audience.
3. Green Wall: Create an eco-friendly backdrop with a living green wall made up of lush plants and foliage. It adds a touch of nature and promotes a sustainable image for the company.
4. Art Installations: Commission local artists to design and create a unique art installation as the backdrop. This can be a conversation starter and provide a memorable visual element for the event.
5. 3D Sculptures: Incorporate three-dimensional sculptures that reflect the company's products, services, or branding. These can serve as both artistic pieces and interactive photo backdrops.
6. Light Display: Use LED lights or neon signs to design a captivating backdrop that complements the event's theme or showcases the company's tagline or values.
7. Technology- Integrated Backdrop: Incorporate technology elements like LCD screens or interactive displays into the backdrop design to showcase product demos, customer testimonials, or dynamic visuals.
8. Vintage- Themed Set: Transport attendees to a different era with a vintage-themed backdrop, complete with classic props and accessories that align with the company's history or the event's theme.
9. Augmented Reality (AR) Backdrop: Offer attendees an immersive experience with an AR-enabled backdrop that allows them to interact with digital elements using their smartphones.
10. Geometric Patterns: Design a backdrop with modern geometric patterns that match the company's branding colors and create a visually striking effect.
11. Graffiti Wall: Create an edgy and urban backdrop using graffiti-style artwork that represents the company's values or event theme.
12. Photo Mosaic Wall: Construct a backdrop made of thousands of small photos featuring employees, customers, or products. When viewed from a distance, the photos form a larger image, reinforcing the company's community and inclusivity.
13. Artistic Typography: Display motivational quotes, company values, or event messages using creative typography to engage attendees and reinforce key messages.
Remember, the backdrop should align with the event's purpose and the company's image. It should be visually appealing and leave a positive impression on attendees while staying true to the brand identity.
"Prop-tastic Ideas: Elevating Your Corporate Event with Creative Props and Engaging Activities"
Props can add an interactive and engaging element to a corporate event, making it more memorable and enjoyable for attendees. Here are some prop ideas for a corporate event:
1. Foam Hands: Customize foam hands with the company logo or event theme for attendees to show their support and enthusiasm.
2. Photo Booth Props: Set up a photo booth with various fun props such as hats, wigs, oversized sunglasses, mustaches, and speech bubbles with company-related phrases.
3. Themed Hats and Headbands: Provide hats or headbands that match the event theme or showcase the company's products or branding.
4. Logo-branded Items: Offer logo-branded giveaways like pens, notebooks, mugs, and tote bags that attendees can use during and after the event.
5. Giant Inflatable Props: Incorporate large inflatable objects like the company's products or mascots to add a playful touch to the event space.
6. Virtual Reality (VR) Headsets: Set up VR stations where attendees can experience immersive content related to the company's services or industry.
7. Interactive Games: Arrange interactive games or challenges and provide relevant props such as dice, spin wheels, or themed game boards.
8. Balloon Decorations: Use balloons in the company's colors or branded with the logo to create an inviting atmosphere.
9. Wearable Accessories: Hand out wearable accessories like wristbands, lanyards, or pins that showcase the event's theme or messages.
10. Foam Board Cutouts: Create life-size foam board cutouts of influential company figures, event speakers, or industry celebrities for photo opportunities.
11. Time Capsule: Set up a time capsule with company memorabilia, relevant objects, or attendees' messages to be opened at a future event.
12. Branded Fans or Hand-held Signs: Provide fans or hand-held signs with company branding for outdoor events during warmer weather.
13. Puzzle or Team-building Props: Offer puzzle pieces or team-building activity props that encourage collaboration and communication among attendees.
14. Giant Jenga or Connect Four: Set up oversized versions of classic games for attendees to enjoy during breaks or networking sessions.
15. LED Glow Sticks or Bracelets: Distribute LED glow sticks or bracelets that light up the event space during evening events or parties.
Remember that props should align with the event's theme and purpose, and they can be used to reinforce the company's branding or messages. They should also encourage interaction and participation, making the event more enjoyable for all attendees.
"First Impressions Matter: Jaw-Dropping Entry Gate Ideas to Welcome Attendees to Your Corporate Event"
Creating an impressive and welcoming entry gate for a corporate event can set the tone for the entire occasion. Here are some creative entry gate ideas:
Branded Archway: Design a grand archway at the entrance featuring the company logo and event theme. The arch can be made using a variety of materials, such as metal, wood, or flowers.
Red Carpet Entrance: Roll out a red carpet leading up to the entry gate, giving attendees a VIP treatment as they arrive.
Digital Screen Welcome: Set up large digital screens displaying a personalized welcome message to greet attendees as they approach the gate.
Living Flower Tunnel: Create a tunnel-like structure covered with live flowers and greenery, providing a beautiful and fragrant pathway for guests to walk through.
Balloon Entrance: Craft an eye-catching entrance using colorful balloons, arches, or tunnels with the company's branding or event theme.
Corporate Logo Sculpture: Construct a 3D sculpture of the company logo at the entrance, allowing attendees to interact and take photos with it.
Lighted Pathway: Line the pathway to the entry gate with fairy lights, lanterns, or LED strips to create a captivating and magical ambiance.
Themed Props and Decorations: Set up themed props and decorations related to the event's concept, industry, or company's products.
Interactive Projection Mapping: Use projection mapping technology to project dynamic visuals, animations, or welcome messages on the gate or nearby walls.
Employee Spotlight Wall: Showcase the faces of key employees or event speakers on a dedicated wall or digital display near the entry gate.
Virtual Reality Entrance: Offer an immersive virtual reality experience at the entry gate, allowing attendees to explore the company's world or event theme.
Giant LED Screens: Install large LED screens on either side of the entry gate, displaying engaging content, event highlights, or company achievements.
Music and Entertainment: Have live performers, musicians, or entertainers at the entrance to create a vibrant and exciting atmosphere.
Selfie Station: Designate a designated selfie station with themed backdrops and props where attendees can take photos as they enter the event.
QR Code Scanning: Implement QR code scanning at the entry gate for contactless registration and access to event information.
Remember to align the entry gate design with the overall theme and purpose of the corporate event, and make sure it reflects the company's branding and values. A well-designed entry gate will leave a positive and lasting impression on attendees right from the start.
"Building Your Brand: Innovative Branding Ideas to Make Your Corporate Event Unforgettable"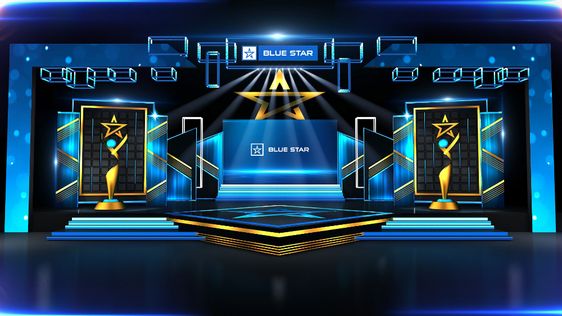 Branding plays a crucial role in corporate events, as it helps create a cohesive and memorable experience for attendees while reinforcing the company's identity and messaging. Here are some branding ideas for a corporate event:
Event Logo and Theme: Create a unique event logo that incorporates the company's logo elements or colors while representing the event's theme. Use this logo consistently across all event materials, including invitations, banners, and digital promotions.
Customized Event Merchandise: Offer branded merchandise like t-shirts, caps, notebooks, or water bottles featuring the event logo and theme. These items can serve as giveaways or gifts for attendees, extending the event's reach beyond the day itself.
Branded Signage and Banners: Use branded signage and banners throughout the event venue to highlight key areas, provide directional guidance, and reinforce the event's visual identity.
Custom Backdrops and Stage Design: Design backdrops and stage setups that prominently display the event logo and theme. This helps create a focal point for the event's main activities and ensures branding is visible in event photos and videos.
Color Scheme Consistency: Choose a consistent color scheme that aligns with the company's brand colors and use it across all event materials, decorations, and digital assets.
Interactive Digital Displays: Utilize interactive digital displays or touch screens with the event logo and branding to engage attendees and provide event-related information.
Personalized Name Badges: Create personalized name badges for attendees that feature their names, job titles, and the event logo.
Social Media Branding: Develop branded social media assets, including cover photos, profile pictures, and event hashtags, to encourage attendees to share their experiences online.
Branded Photo Booth: Set up a photo booth with branded backdrops and props, allowing attendees to take pictures and share them on social media, further promoting the event and its branding.
Audio-Visual Branding: Customize audio announcements, event jingles, and video intros with the event logo and theme to create a consistent audio-visual experience.
Branded Interactive Activities: Incorporate interactive activities that feature the company's products or services while showcasing the event logo and branding.
Themed Food and Beverage Stations: Coordinate food and beverage stations to match the event theme and include branded menus and table settings.
Corporate Swag Bags: Prepare swag bags with branded items and promotional materials that attendees can take home, reinforcing the event experience.
Augmented Reality (AR) Experiences: Integrate AR elements into the event that tie back to the company's branding and messaging.
Environmental Branding: Extend branding beyond traditional materials by using projection mapping, laser displays, or LED walls to transform event spaces with dynamic branding visuals.
Remember that consistent branding creates a sense of unity and professionalism, leaving a lasting impression on attendees and reinforcing the company's image and values.