Attending an event is incomplete without satiating the dragon in your belly. And what else can you ask for other than a platter of a sumptuous appetizer to satisfy your guests? You should also remember that a tray of tempting grub always comes with the gratifying food catering services. There are several factors that make a top food caterer.
It might seem a bit intricating to choose the right caterer for your event. You just can't call upon any services and expect your guests to compromise with your decision. Moreover, you can't expect any catering company to provide you with such caterers who will fulfill your requirements. And provide the services according to your specifications. Catering is not only about serving what you have prepared. You can definitely get in touch with several caterer services around the city, but have you ever thought of the fringe benefits you will get if you opt for a qualified caterer? Okay, if not, get ready to hire a professional caterer for a mind-boggling gathering.
There are several factors on which the premium quality of the catering service depends. All you have to do is to choose an effective and dependable service whenever you schedule a business meeting, a conference, a marketing expo very or a wedding. In case you want your function to shoot up, you should also ensure the fact that they can handle every hiccup arising. But it becomes hectic and difficult for the people to avail of a reliable catering service in order to glam up an event. You should look into a few components that will help you to choose the finest catering service from multiple options available around the city.
Factors that make a top food caterer:
There are multiple factors that can aid in becoming one of the finest food catering services in the world. If you are running a food catering business, you should possess these factors.
Cooking and the quality of the food
Catering service is all about cooking caliber and the quality of the food you are serving. People consider these two factors to be the basic catering service. Regardless of the exquisite lighting or the meticulous layout of the place, guests will not opt for your service again if they find the food to be bad. The quality of food that is served is one thing the visitors always look forward to. If the experience of your visitors meets their standards, the event will not only excel but also your guests will be opting for your service for the next gathering. In terms of food quality, rely only on the flavor and look of the meal, a top-quality catering service should also give you all the choices that you have so you can make an informed decision. When hunting for reputed caterers, never compromise on the quality of food.
Hygiene
Hygiene is the most important aspect that every caterer should take into account. A reputed caterer should know why hygiene is essential for their business to grow. You will definitely never want to get acknowledged with the fact that your guests have fallen sick after having food at your event. So you should make sure that the caterer you are hiring doesn't compromise with hygiene. Nobody will ever want anything other than good hygienic food and a safe place for the gathering.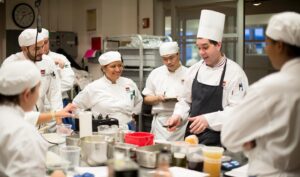 Should be aware of the time and season
The caterer has to be diligent enough to produce prompt services. A premium quality food catering service will take into account the fact that everything happening around should be coordinated. The meal should be delivered to the visitors at the right time and no malaise should exist. Another thing to be remembered before scheduling any event is the season, so beverages should be prepared and arranged accordingly. In case you are organizing events at night in winter, the caterer should be pay heed to engage the guests and make them comfortable with the regular supply of tea, coffee, or other warm drinks. Paying proper attention to the visitors can aid in the increasing growth of your business.
Creativity
It may be necessary to change the recipes in order to deal with food allergies and cooking methods that conform to specific dietary requirements or personal preferences. In these circumstances, an innovative and resilient individual will prevail and inspire confidence throughout his customers. A top food caterer should deliver creativity in their menu. They should amaze the guests with their innovative and unique platter of sumptuous appetizer so that they can get more and more offers in the future.
They should pay attention to every single detail
In case you are in search of a good and top food caterers, then you must consider the one who will pay heed to every detail around the event. Starting right from the arrangements of the light to the table settings and menu displays should also be furnished by the caterer. Take time to study all the aspects of the catering sector and think about the specific challenges and demands of it, which will create a difference in performance.
Conclusion:
There are around hundreds and thousands of catering industries operating throughout the city. Due to the highly competitive catering sectors, it is easy to find any company which will serve your credentials. But never compromise with the quality. If you want to arrange the best hospitality for your guests, get in touch with the finest and premium food catering services. Moreover, it is essential to build and maintain an image in order to succeed in the catering business. And you can only achieve a prestige if you offer customers these essential services. If you want your guests to get galvanized with your event, then get hold of such a top food caterer services which can provide you with the above-mentioned factors. We can bet that you will never regret your decision!