How to book artist and singer  ?
Are you getting married this year? Surely you don't want to make your biggest day boring for guests. So for making your evening a special one, book artist and singers who bring in harmonious and sweet surroundings shall be a great idea. For adding extra entertainment you can also go for booking various kinds of artists like dancers, magicians, comedians, jokers, and others to make their evening great.
These artists and singers play an important role in making the wedding a success. Weddings of the 21st century are incomplete without them. It just likes guests' meetings formally and gossiping about their lives. It has become a trend to book various singers and artists to perform at weddings for entertainment purposes. You will be satisfied if the artists and singers hired by you have done their job well. But how to hire wedding singers and artists, how to approach them? In this blog, we will look at some tips to book a wedding singer and artist in Delhi NCR.
Book artist online
Delhi, the most popular city and capital of India holds many rich cultures within itself. Many famous singers and artists live there or have their hometown. If you are marrying in Delhi NCR and want to call singers and artists to perform at your wedding, you may find thousands of varieties. Many famous management companies and bands are there who send various singers and artists to perform at the wedding. It's a tough choice to choose amongst them as they all are best at their work. The tips are given below which will help you in booking your artists and singer.
Book them through a Artist management company –
To book various singers and artists to perform at your wedding, first make a list of singers and artists you would like to have on your best day. Then search for them whether they are available in Delhi NCR or not. And if they are available they must be in contact with some agent or management company, who manages their events. Contact them and fix your booking with your singers and artists for your wedding. Booking through them will make your event run smoothly and properly. You don't have to take any burden after booking with them. They will handle all your things starting from booking to its proper management and all.
Whenever you are booking the artists and singers through agents or management companies, make sure that on the first meeting don't tell your budget, even when they ask for your budget, tell them to show their quote. This is because, if your budget is not much, then they can take their commission, they will directly say no. Or if your budget is much higher than their expectation, they will even take more than the artist or singers' worth. This can either book them at the price which they are telling or let them go. In both cases, the loss will be yours only.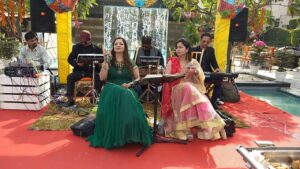 After getting all things booked, make sure to make a contract with your signature on it. The contract doesn't need to look good or amazing, it just needs to have some important details. If you don't mention your relevant or key details or requirements, it might be an advantage to the artists to deny something at the last moment or may also take extra charges.
Date and time of the performance of the singer and artist booked by you. It also needs to have a duration of performance.
Make sure to mention the rate at which you have booked the singer or artist in Delhi NCR. It is also mandatory to mention transportation, housing, food, and drinks cost.
A subject which contains your about the cancellation terms by the artists or singers.
After fixing the things given above, it's now time to send them the advance. You need to send the advance to the management company and the artists and singers of Delhi NCR. The advance should include all the things like the costume of the artists, sound systems and mike for singers, accommodation costs (If they will stay at your venue for a day or so), transportation costs, meal costs, etc.
Other things to consider –
Booking an artist and singer for a wedding in Delhi NCR can be a tough task, but if you are doing it with some management company or through an agent it becomes easy. They tend to be very quick and punctual at their work and commitments. But there are still some things which need to be under consideration
The big and famous singer and artist you choose to perform at your wedding, you will have more preparation work to do for them. Some artists also have some riders or managers or personal assistants who will look into the whole contract.
There are many singers and artists in Delhi NCR who have many rules related to videography and photography. It's important to look at them very properly to a pod any last time issues.
Book cover band, background musician, and other –
If you are not willing to book artists and singers from agent or management companies, there are many other options available in Delhi NCR, you can choose to book your artists and singers from the band or background musicians. You can pitch or book them through their social handles, emails directly, and can fix your performance.
Weddings are fun but with these wonderful artists and singers, your wedding can become much more fun than you thought of. If you plan everything prior and follow the simple tips given, it will never go much expensive. This will add a royal touch to your wedding. Your guests will also not be bored and enjoy your wedding day with you. Booking wedding singers and artists to perform at your wedding is very common amongst people across the world.