Sound counts because it incorporates the entire experience. Audio helps with any situation. Audio accuracy and consistency can influence how well an audience can perform, how well a speaker can be understood. The audio is an important part of any type of event. Therefore, by investing in a good rental of a complete sound system, you can necessarily provide enjoyable and entertaining experiences at your event.
The importance of a sound system for your event:
Do not panic if you are charged with a charge for a group of 300 to 500 individuals. You should take various logistical and technical aspects into consideration. Audio engineering has never been able to provide such a wide range of sound enhancement devices and techniques. As a concert performer, the option of a live sound system that fits your genre, your budget, and the locations that you perform involves recording, combining and amplifying your performance. In this guide, you can find the right sound equipment for your songs, inform you how it functions, and enable you to find the right sound equipment for your complete sound system.
A complete sound system should include these parts-
Speaker
The coverage criteria and the venue scale should be based on the choice of your speaker. The form of the space should also be noted. Moreover, how the speakers communicate with boundaries such as walls, roof, and floor are important for consideration.
You should be ready with such a friendly budget which can encourage you to get the best speakers. Start with what you can afford and then decide what suits you best in this price range. Always research before you order one. While choosing a speaker, you want to check the specification sheet that most renowned manufacturers should readily available. For many music styles, including western, pop, or Folk rock, kick drum and bass don't need additional things, a full-range speaker with a frequency response of up to 60 Hz to 18 kHz could be fine. You'll want a subwoofer for rock, metal, pop, hip hop, EDM, etc. A subwoofer increases the frequency response to or below 45 Hz which provides extra headroom and increased output for all-range speaking speakers.
Analog mixers
Analog mixers are the basis of any audio system and are available in price and characteristics. Some diehard analog enthusiasts do not move to a digital mixer since they think the analog components sound superior to the digital component. You will want additional signals that shape the sound of each instrument if you mix a live band. Most analog consoles offer an integrated four-band parametric EQ that helps balance the tonal sound and creates space for each device within the mix. Analog consoles with integrated dynamics on all channels are seldom found. All-analog configuration needs many racks of hardware, such as compression and gates for each line, to accustom for further signals transmitted.
Digital mixers
The consistency of sound and prices that are equivalent to many moderately priced classic consoles has made considerable strides over the years. Digital mixers offer the best solution for any touring band, with a large channel and four-band EQ, compression and gating packaging for every channel. In order to ring out display, every production often includes graphical EQ. Many mixers have internal efficiencies for use with internal sendings with up to eight insert slots.  The wireless control options are another feature of the remote mixer.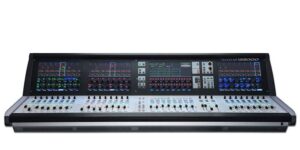 Microphones
Microphones are used to record voices, guitar amplifiers, and percussion allowing performers to be heard. Live music utilizes innovative amplification as a foundation. Several microphone manufacturers exist, but Shure SM58 for vocals and SM57 for instruments are still common among most clubs. We have over time, proven their worth by making it sound strong and incredibly durable. You can beat and still work, practically. You can definitely opt for Shure GLXD or QLXD optical microphones if there are a budget and a need for portable microphones. The GLXD is a budget option with a tidy, transparent, artifact-free voice, a basic environment, and an incorporated reception adapter.
In-ear monitors
There are several instances where most artists opt not to use stage displays and settle for in-ear screens (IEM).  The use of PSM300 Shure Personal Monitoring System entry level for years and had great results. A wireless mixer simplifies the design and operation, contributing to very satisfied performers who can combine their own display — without undue stage noise.
Standing on stage in the middle of a show makes it very special from being out in the crowd. Monitors such as in-ear or stage wedges solve this problem by encouraging actors to hear the sounds of each other. It increases teamwork and allows everyone during the case to stay on track.
Processors
Some further added effects or results are referred to as signal processing. Those involve staggered, reverberated, compressed, constrained, graphical or parametric EQ results. Signal processors are handy tools that improve sound quality and come in different sizes, based on whether you deal with live or pre-recorded audio.
Why is a sound system essential for a successful event?
You should need a flawless sound system for a successful event as part of its decorum. A complete sound system, combined with great visual pleasures, can drool your audience at the heart of your event. It is not uncommon that you need the best Toronto-rented Sound System, but obviously, that offers you a long range of advantages. If you have a large audience, have the best sound systems at your fingertips. None of your audience will be detached because the audio is equally high around every part of the room. In fact, the visitors will keep turned on to you by an impeccable sound system. Nonetheless, for this, the highest quality audio system for sale is essential in Toronto.
You can not anticipate improved audience interaction without adequate audio arrangement. With large events, show organizers hire best-rented sound systems to ensure that the environment is perfect for getting people to communicate with the speaker.