Most used elements in the Event Production 
We are a leading service provider in concert and event production. Hire4event have a team of technology expert who always gives updates about the latest equipment like sound, light, mike, sound mixers, special effects etc. We choose the best possible equipment according to event essence and budget of our esteemed clients. Our team technically check requirements like quantity of audio outputs according to the audience and as per other aspects like If there is a DJ performing then audio must be loud if there is a conference or seminar out must be accordingly.
  We always get in touch with companies outlets like JBL, RCF, SHURE, SENNHEISER, PIONEER, DIGICO, SOUNDCRAFT, YAMAHA, AVOLIGHT etc. To produce events, production companies use a lot of elements to create a design or concept for an unforgettable moment. Whatever is the demand from the client we have to create in that case we have most used elements below.
1.Line Array Sound from JBL and RCF
2.Sound mixer Soundcraft and Yamaha(for medium scale events) venue-48 and Digico SD-10 for Large Scale events.
3.Shure and Sennheiser cordless mikes
4.CD Player and DJ gears from Pioneer
5.LED Par
6.Sharpie and moving heads
7.Blinders
8.Spotlights
9.Profiles
10.Colour Wash
11. Avolite Digital light Controller
12. Aluminium Truss
Structure and Venue Construction-
13.German Hanger
14.Gazebo or Pagoda
15. Octonorm stall
16. Maxima stalls
17.Carpet
18.Portable and Tower AC.
19.White leather Sofa and centre tables
20.Chairs with Bow
21.Round tables and Bar tables
22.Black masking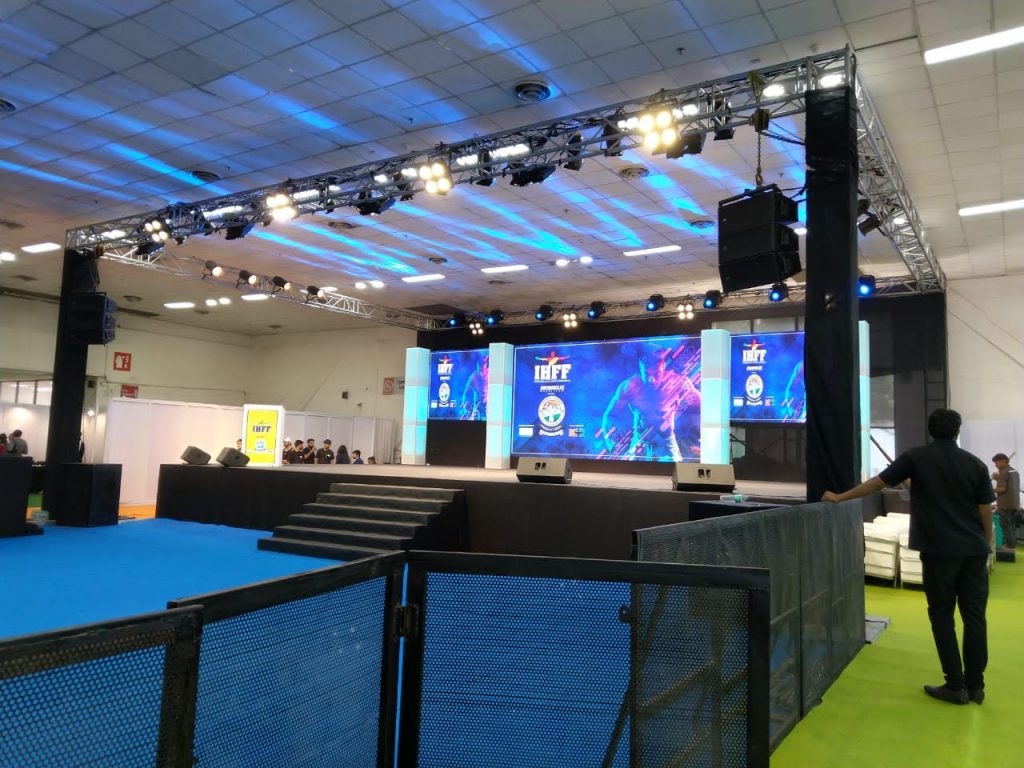 23.DFMD
24.HHMD
25.Baggage scanner
26.CCTV
27.Fire distinguisher
28.Walki Talki
Visual-
29.LED Wall
30.Plasma TV
31.Projectors
32.Laser lights
33.Camera for Video and Still photography
34.Drone camera
Fabrication and Branding-
35.Iron frames for stage Construction
36.Iron and Wooden frames for flex fixing
37. MDF Boards for design works
38.Black clothes for Backside masking of branding
39. Mozo Barricades
40.Tin Barricades
41.Podium
42.Que manager
Miscellaneous Elements
43.Portable toilets
44.LED Metal lights for Venue lightings
45.Power Gensets
46.Board for Platforming and stages
47.Drumset
48.Guitar Amps and DI boxes
49.Fog Machine
50.Laptop for Video wall and Displays