Book Artist for corporate event to make it memorable for employees is now now very easy with us. Hire4event.com is a Greater Noida based Event Rental and Artist Management agency. Delivering creative event and brand experiences, and unlocking a little magic along the way!
We are one of the leading event management and Artist Booking Companies in India. Hire4event.com provides you the online platform to book excellent and talented artists. And rising talent can register themselves for free on our portal to get direct leads. We have more than 7 years of experience in the field of event management. Our service is reliable and extraordinary. We believe in working as a team. Our artists never feel left out and are enabled to realize their worth. Located in Greater Noida, we cover events in all the Delhi NCR and have held events in all parts of the country, including Mumbai, Goa, Jaipur, Bangalore, Chhattisgarh, among others.
Our Services in under artist management-
We accommodate International Artists of all types- singers (folk, classical, western, etc.), dancers, show artists, Russian Band, Belly Dancers, group dancers, act performers, Magicians, Stand up Comedians among others. Our services are tailored and extremely professional. Book artist for corporate event and get a dedicated support in artist travelling, accommodation, hospitality, event production like light sound tech-rider etc. We are rapidly growing and becoming an all-inclusive, top of the line company with a history of working with international artists. Our team is always available 24*7. We have been involved in fulfilling the demands of clients with the aid of well planned and executed services. Our clientele is huge and encompasses all kinds of performers.
Our artists know their worth. They understand that premium quality is a requisite to good work. Other than providing events to perform, we also provide a host of other services. We aim aft providing artists, Celebrity Management and coordination Services across the globe for shows according to the client's desire and budget and execute in the best possible manner. Book artist for corporate event with Top-notch services are guaranteed along with a great feedback mechanism. In other words, you will never be disappointed with what you get for your money!
We are the path you need to ensure future success. We can help you achieve your dreams. It is very difficult to get good clients on your own. It is very difficult to meet all the representatives of various departments and arrange everything on your own. This is where we come to your rescue. We take care of everything in a very professional way and charge reasonable rates for the same. We have a good line up of Artists and Celebrities who have joined hands with us and who truly support us with their best Enthusiasm. Having handled talented and versatile artists for years, we know great talent when we see one! Come be a part of this journey as we overcome all barriers to eventual success.
Book Artists for corporate event –
RUSSIAN BELLY DANCER
CARNIVAL DANCERS
TANOURA DANCERS
LED WING DANCERS
FIRE DANCERS
RUSSIAN MUJRA DANCERS
POLE DANCERS
FLUTE MERMAID
MARTINI GIRL
CHAMPAGNE CHANDELIER
SPEED O CHEF
RUSSIAN BARTENDERS
EVENT HOSTESS
FOREIGN MODELS
TABLE HOSTESS
INTERNATIONAL CHEERLEADERS
ITEM PERFORMER
RUSSIAN DHOL PLAYER
SYMPHONY BAND
TRIO VIOLIN BAND
VIOLIN PLAYER
SAXOPHONE ARTIST
ACCORDION BAND
LOUD STREET BAND
LATINA AMERICANA BAND
HARP PLAYER
CELLO PLAYER
PIANO ARTIST
GUITAR PLAYER
AFRICAN ACROBATS
QUICK CHANGE ACT
LIVE HUMAN FOUNTAIN
MANDOLIN PLAYER
MOUTH ORGAN
BAGPIPER BAND
ORCHESTRA BAND
SAND ARTIST
MAGICIANS
LED TRON ACT
BOLLYWOOD DANCE TROUPE
PUNJABI BHANGRA TROUPE
FOLK DANCERS
INDIAN MUJRA DANCERS
IRISH BAND
GOGO GIRLS
RUSSIAN THEME BRIDAL ENTRY
RUSSIAN THEME GROOME ENTRY
BOOK RUSSIAN BELLY DANCERS
Whether you are organizing a corporate event, a lavish party or even an extravagant event, Belly Dancing is a sure shot way to entertain guests. It keeps them in the loop and engaged all the time. Their presence will make any event a superhit. They are just a call away. Contact us now!
Book artist for corporate event in below category-
Our Fire Dancers are a multi-talented entertainer who specializes in fire shows and aerial displays. Performing solo or as part of a group, our fire dancer can choreography bespoke shows that will be unique to your event. They not only have a wide range of costumes to choose from but are highly skilled with a wide variety of props such as hula hoops, poi, staffs, dragons and much more.
BOOK MARTINI ACT FOR CORPORATE EVENT
Whether you own a bar or a nightclub, our martini can work with you to make sure they maximize the potential of attracting new guests and customers. If you're running an event and want martini girls to work the room and keep the atmosphere fun, our girls will leave everyone there is no doubt of their talents. They'll impress your visitors with their skills, not for mention their good looks and attractive outfits! They get any party or event off to a great start and keep the fun flowing, along with the alcohol.
Our Tanoura dancers are artists from India and abroad who are passionate about the traditional dances of Egypt and the Arabic world. With an extensive knowledge of both modern and traditional dances as well as many years of experience in the dance industry, our Egyptian dancers promise to deliver a stunning and authentic dance show that will amaze audiences worldwide. Book artist for corporate event to make your employees happy.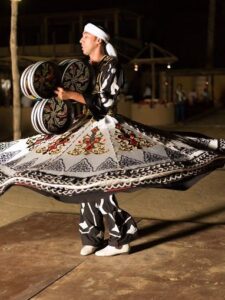 Our event hostess is irregularly sought-after for a wide variety of functions in and around the country from charity balls and New Year's Ever celebrations to opening parties and award ceremonies. She can apply her skills to any given task and quickly adapts to new situations. She is a very versatile event host who can completely tailor her style, appearance or delivery.
An International Flute Mermaid is a mix of talent and beauty. It is a rare skill which is appreciated around the world. Complete with a beautiful stage decorated with shells, necklaces, goldfishes and pearls, the performance of a flute mermaid attracts everyone's attention. li has a soothing effect on the audience who is enthralled by her act.
A live music ensemble with many years of experience, these live party musicians have inherited a rich musical tradition from the orchestra's founder. The group's extensive repertoire has been designed to appeal to a wide international audience. The orchestra's vocalists can sing in English, Hindi and other languages and adapt their set list to satisfy the music tastes of even the most demanding listeners!
A Dhol played at a wedding is an auspicious sign and a must for every celebration. But what if you can add a special twist to it? Our Russian Dhol players are the best form at an entertainment for your Baraat and beyond. Who doesn't like seeing these foreigners learning our rituals and excelling in carrying them out?
Saxophone players in Delhi can be chosen by the client according to the requirement of the event. The saxophone is a multipurpose instrument. The music produced by a saxophone can be used as a way of expressing various emotions like humor, comedy, surprise and so on. The advancing technology has left its impressions on saxophone also. Like the electric guitar, saxophone also comes with electronic effect.
An artist that loves exploring new genres and styles, this crossover violinist enjoys creating new music and delighting listeners with unique sounds. As a soloist or along with other artists, our contemporary string musician knows how to captivate audiences of all ages with her music. She can play both the classical and the electric violin and adapt her performance and style to different types of events.
BOOK RUSSIAN BRIDE & GROOM ENTRY THEME
Bride and Groom entry with foreign girls is not just limited to simply walking to the stage with these girls. There are many forms which have taken place in this realm. We provide all of them and even catered to customize ways.
Other Services we have-
MODEL
BAND
DANCER
JUGGLER
MAGICIAN
CARICATURE
NAILART
MEHENDI
TATTOO & MEHENDI ARTIST
FLASH MOB
DOCTOR
PHOTOBOOTH WD FLIPBOOKS
GAMING MACHINE INDOOR
MOTIVATIONAL SPEAKER
COMEDIAN
CARTOON CHARACTER
COMEDIAN
DHAKI
BOUNCER
SECURITY
HOUSE KEEPING
DJ(MALE & FEMALE)
RJ(MALE & FEMALE)
EMCEE
HOSTESS
MANPOWER
PHOTOGRAPHY
VIDEOGRAPHY
INSTANT PHOTOGRAPHY
GYM TRAINER
YOGA TRAINER
PEN BRANDING
BADGES BRANDING
T-SHIRT BRANDING
CAP & UMBRELLA BRANDING
CALENDAR & DIARY BRANDING
WALKY TALKY
METAL DETECTOR