Book Singer, Band, DJ and other Artist in Jaipur for Wedding and Corporate events
Hire4event is Top & best Artist booking Company deals in services – Book Artist, Singer, Band, DJ for Wedding and Events in Jaipur and Udaipur.  You have been preparing day and night for this day to be perfect in all facts. Since the day of your engagement, you have been busy giving your best shot in all the preparations for your Wedding day. The most beautiful day of your life that will bond you with your eternal love mate for a lifetime through the vows and traditional rituals. No matter how modern you may be, when it comes to weddings, you not only enjoy all the rituals but also appreciate their presence. A quality and happy time, with your beloved family, friends, and relatives plays a vital role during your wedding preparations and celebration days. And this quality time, fun, love, smiles and, tears are incomplete without music and dance. So book best DJs, singers and other artist in Jaipur for weddings and corporate events. Lest discuss about – Book Artist, Singer, Band, DJ for Wedding and Events in Jaipur, Udaipur.
No Indian wedding is complete without music, beats of the band, DJ music, and dancing fun. When it comes to Jaipur, the beats of Dhol are the major element of a Wedding. Either you are planning a simple traditional wedding, a destination wedding, or a full-on Desi wedding, musicians and artists are the musts in every matrimony. The role of the music artist relies on the kind of wedding you expect to see. Tremendous rituals are to be performed in an Indian Wedding thus, you need to sort out where the part of the Artists pops in. This might seem a bit confusing to you, right? Let us sort it out! Here is the list of aspects that you might take into consideration before booking an artist for your Wedding in Jaipur, and make your beautiful day an excellent one with tremendous remembrances to admire for a lifetime.
 Booking Artists for Weddings: Adding Glamour to Your Celebrations in Jaipur, Udaipur, Jaisalmer
Are you planning a wedding in Jaipur, Udaipur, or Jaisalmer and want to add a touch of glamour and entertainment to your celebrations? Look no further! Booking talented Artist, Singer, Band, DJ for Wedding and Events in Jaipur, Udaipur can elevate your special day and create a truly memorable experience for you and your guests.
One option to consider is hiring a live band. A talented group of musicians can perform a variety of popular songs, both local and international, keeping your guests entertained and setting a vibrant atmosphere for your reception.
To showcase the rich cultural heritage of Rajasthan, traditional folk artists are a fantastic choice. Kalbeliya dancers, Ghoomar dancers, and Manganiyar singers can bring the authentic charm of Rajasthani music, dance, and traditions to your wedding festivities, leaving a lasting impression on everyone.
For a touch of elegance and serenity, classical musicians are a perfect addition to your wedding ceremonies. Sitar players, Tabla players, or Santoor players can create a serene ambiance with their soothing melodies, enchanting your guests and adding a sophisticated flair to your celebrations.
If you want to infuse your wedding with energy and excitement, consider booking Bollywood performers. Professional dancers and choreographers can put on an entertaining show, showcasing popular Bollywood songs and dance routines that will have everyone on their feet, creating an electrifying atmosphere.
To add a touch of drama and awe, fire dancers can create a mesmerizing performance. Combining dance with fire manipulation, they create a captivating visual spectacle that will leave your guests amazed and talking about your wedding for years to come.
Magicians are another option to surprise and engage your guests. Their tricks and illusions can be performed up close during cocktail hour or as a stage show, providing an interactive and entertaining experience for everyone.
For a unique and personalized keepsake, consider hiring a caricature artist. They can create fun and exaggerated portraits of your guests, adding a touch of whimsy and charm to your wedding celebrations.
To enhance the cultural essence of your wedding, mehndi artists can create intricate and beautiful henna designs on the hands and feet of your guests. This traditional and artistic experience will be cherished by your guests and add a special touch to your celebrations.
For an unforgettable dance floor experience, consider booking a celebrity DJ. Their expertise and playlist will ensure a high-energy party atmosphere, keeping your guests dancing and celebrating throughout the night.
By booking these artists for your wedding in Jaipur, Udaipur, or Jaisalmer, you can add glamour, entertainment, and cultural richness to your celebrations. Your special day will be elevated to new heights, creating memories that will last a lifetime.
Aspects to Note Down, when booking a Music Artist
These factors will determine the amount of enjoyment that you and your guests will attain at your wedding. Missing out on any of these will ultimately bring down the graph of fun and excitement of your guests during the function and programs. So let's get started with the list.
Style:
The essence of the music lies in the style of the listener and this essence increases exponentially if the attitude of the artist tunes up with the listener. No one at the wedding will enjoy the music that doesn't collaborate with your taste. While selecting an artistic group check if they are well experienced in the genre and style you like the most. This can be done by checking their playlists. If the playlist doesn't match your style, check if they would accept your playlists. This will add new zeal to your wedding and boost up the enthusiasm among your guests.
Song Collection:
A wedding is incomplete without a perfect song collection list that has elements for each event specified. The soul of the wedding events lies in the quality, and temperament of the songs. This is the vital element to contemplate when hiring an Artist for wedding processes. Let the artistic group gain deep insight into the types of hymns you want to play on the specific events during the wedding rituals. Sort out the list and give it to your band beforehand, this will give the artists more time to prepare for the wedding and add more perfection to it. If you will hire top Artist, Singer, Band, DJ for Wedding and Events in Jaipur, Udaipur no need to worry about song collection.
The fascination for Music:
Passion is the key to success, and music without immense passion is nothing but a lifeless sound. The fascination for the melody you execute is illustrated in your performance. To add more life to your wedding and the heeding rites and events, the artistic band must have a zeal for music and to perform at weddings. See-through it that the band you assign for your big day can impart enough enthusiasm in their performances and engage the audience to a broad extent. Each member of the team must acquire the energy to deliver the best possible results to enhance your experience.
Expertness:
The band you hire for your big day must acquire a sense of professionalism in them. The work of an expert is appreciable in all aspects as it portrays perfection in all acts. The outcomes of a professional are marvelous and discernible. Working with a team that has been engaged in this work for several years will be far better than the one with comparatively less experience. This will add up more energy to your wedding programs in Jaipur.
Idle intervals: Continuous performance for a long interval is impossible even for professionals. Have a one to one conversation with the artists regarding the time they need a break, and the timing when they will be idle due to numerous wedding traditions. Make all the necessary changes and commitments related to timing and intervals to ensure smooth flow during the rituals without any hassle or unexpected disturbances. This conversation will provide both sides with a clearer idea regarding the blueprint of the functions.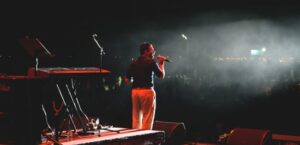 Number of Members:
The sound of the music is directly proportional to the number of band members, and the number of band members relies on the number of guests at the wedding. If you are going to have a grand wedding with more than 800-1000 members a band of 6-8 members will not provide satisfactory music for the entire crowd. This, if you have a guest list, request the manager of the band in Jaipur to provide you with a sufficient amount of crew members to entertain all the guests.
Budget:
At last comes the most essential factor to consider, the expenses. You are already spending a lot of your valuable income on your venue, wedding ring, gifts, clothing, decorations, and whatnot! With a huge burden of expenses, you can't afford to waste a single extra penny on the artistic band. Look out for the prices of distinct programmers and their relative cost. Tally your requirements along with the services provided by distinct artisans, and then go for the most suitable ones. Select the band that provides you all the necessary services. At the most reasonable price maintaining the quality of the band and music they provide.
These above-mentioned facets will furnish you with the checkpoints to go through before hiring an artist band for your wedding in Jaipur. These facets mark the most basic elements that you should not ignore while opting for a Music Band for your Wedding.