Book an Artist, DJ and Band for a wedding in Kolkata
Weddings are the most beautiful day for every bride and groom and It can enhanced by a good Artist DJ and Band for a wedding in Kolkata. It's a magical day of celebration full of enjoyment and love all around the wedding venue. But to execute a successfully grand wedding, there are many things to look for like wedding venues, gifts, entertainment, catering, and more.
It seems that many people consider everything apart from entertainment purposes. But like other things, entertainment is also a necessary thing to look for. For various entertainment purposes for weddings in Kolkata, people can book various Bengali singers, dancers, Shehnai player, comedians, musicians, bands, DJ, and many more. They are the reason why normal and ordinary wedding functions become grand, great, and cherishable memories. But even booking or hiring DJ, bands, and various artists, several things need to be taken care of like when to book, how much to pay, timings, etc. Keep reading this blog to know what other things are to be taken care of in detail so that you do not make any mistake while choosing artists, DJ, and bands for your wedding.
What are the things to be taken into consideration while booking various artists for weddings in Kolkata ?
Are you getting married in 2021? Start preparing for your wedding entertainment now so that you may get the artist, DJ, or a band of your choice at your wedding. Start visiting various event and management companies in Kolkata and book for various artists, DJs, and bands' performances for your wedding day. But when are you booking with various event management companies in Kolkata, what are the things which you need to evaluate? Let's discuss
Book early "Artist DJ and Band for a wedding in Kolkata" –
If your wedding date is fixed during the wedding season i.e approximately from June to October, then you should book your artists, DJs, and bands in Kolkata as early as possible. Because if you delay in booking, then there will be a possibility that they might increase their rates or the artist, band or DJ you wished to book on your wedding, might not be available due to their busy schedule. So, better don't take any risk and book your favorite soon.
Know your limits –
Before choosing your entertainment artist in Kolkata, make sure to finalize your venue or wedding location first. So that you can ask the manager of the venue about various restrictions of the time limit of performance, music and DJ volume, etc. It will make you choose and plan accordingly your artist's performance. Most venues in Kolkata don't allow loud music or any type of performance after 10 pm in the night, so to avoid any post risk, it's better to confirm.
Choose wisely Artist DJ and Band for a wedding in Kolkata-
While you are going to book for your artist, DJ, and then the band for the wedding, it is suggested to choose between them very wisely and properly. Which artist do you want for your wedding performance, a clown, a comedian or a singer or musician? Who can entertain all your guests? These are some questions which you need to ask yourself. If you are confused between a live band or DJ in Kolkata, consider its pros and cons, what fits well to your budget, etc will be considered to make a perfect choice.
What kind of music you want and when –
The next important thing to be considered for DJ or live bands. The live band has the capability of entertaining all the guests with an orchestra system, while DJ is best when you want some pop music to dance and rock the floor. Both are good and perfect at their place. Now the choice will be yours which one would you want to be present at your wedding. If you love retro or 90's songs, go for a live band or else go for DJ.
Be inclusive and age conscious with your set-list –
While choosing for your entertainment artists, DJ, and bands in Kolkata, consider not only your choice but also look for your guests as well. There will be older and younger peoples than you at your wedding. So make sure to choose the right performer for your wedding, which is loved by all. You should also consider playing the type of music which everyone wants to hear and enjoy. You are marrying in Kolkata, so go for some Bengali touch in your entertainment purpose. Like go for Shehnai music and Chhau Dance performance with Bengali style songs.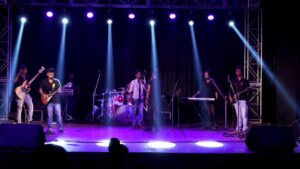 Check your references and ask the right question –
The next thing to consider is which event management company in Kolkata you will go for. You can ask for various references from the ex-clients of the management company. You can also check their various social media handles and check their client's feedback and testimonials. Ask your various friends and relatives to suggest some good event management companies. Who serve you at the best nominal price.
Be flexible while booking Artist DJ and Band for a wedding in Kolkata –
The most important thing is to be flexible. It means to be open to your event management company or artist, DJ, and band in Kolkata. Be open to your budget, time limit, and other factors clear to the artists so that they might not get you wrong or to avoid any risk. If you keep flexibility with your artists and event management companies. They will perform at your wedding very well and your all money will be worth it.
If you keep all these things in mind while choosing various artists, DJ, and bands for your wedding.  You can effortlessly plan your grand wedding without any entertainment problems. The entertainment is not only a crucial part for you. But it also keeps various guests of yours engaged in wedding and enjoy. Booking various artists, DJ, and bands in Kolkata is not very costly. It's just a misconception that makes people drop booking entertainment plans. If you go for the right event management companies with the above things in your mind. You can surely arrange all the things by being in your budget.