Book Top 10 DJ in India for wedding, Corporate event
We are here to discuss about DJ for you wedding because in entertainment DJ is most important part here we will discuss about top 10 DJ in India. In today's age, the wedding is not just about rituals as it will be considered as half-done unless there is fun, merriment, and DJ party in the marriage. Give your wedding a groovy spin by hiring a super eminent DJ who knows how to get a party started. A good DJ will truly rock your wedding event-be it a Sangeet, a cocktail, or a reception party. DJ can make a world of difference to your wedding events and let your guests into the right mood for the celebrations. Because they know how to keep everyone glued to the dance floor for hours we suggest to book top 10 DJ in India if you have budget. What more do you need for your wedding?  
Here are the "Top 10 DJ in India" to raise your spirits at your wedding events-
1. DJ Gaurav Malvai
One of the best Artist DJ Malvai has wowed the crowd in almost every part of the world with his mixes. He is known as one of the premier DJs of India. Gaurav Malvai is an in-demand DJ over the years and has played in many gigantic events. He played in many celebrity weddings also. He knows how to hype the crowd and get your guests on the dance floor. Book him for any of your wedding events, and he will steal your show with his beats. 
2. DJ Aqeel
He has been rocking the dance floors across the globe with his grooving music for more than a decade. For a perfect Bollywood experience at wedding events, DJ Aqeel Ali is the best option. DJ Aqeel Ali has a passion for music and this gave him the motivation to pursue music as his profession. DJ Aqeel Ali is a famous name in the showbiz circle and at big fat weddings & parties. His music tracks can get even the oldies and youngsters to rock the dance floor.
3. Lost Stories
Lost Stories is best known for its extensive use of Indian Elements with quality dance music. Duo are among the top five number DJ records on iTunes India. They are known for their tremendous sense of music, and they know very well how to entertain the crowd. His crowd-mastering skills are just mind-boggling. Rishabh and Prayag officially remixes for Afrojack, Alan Walker, and many more. He is internationally recognised DJ in India therefore you may hire him and result of your decision will be best.
4. DJ Chetas
DJ Chetas is a famous Disc Jockey who started his DJ career at the age of 11. He is known for his Bollywood mashups and enthralling music over the world. DJ Chetas is an official DJ for the Kolkata Knight Riders Cricket team. He is the jack of all trades, be it is Punjabi Pop, Hip Hop, or EMD (Electronic Dance Music). He has a record of making wedding events sensationally outstanding with his selected wedding tracks.
5. DJ Sidharth
Are you looking for a versatile wedding party, go for DJ Sidharth, who has a versatile choice for its wedding numbers. DJ Sidharth has 15 years of experience in rock, dub, drum, bass, techno, Bollywood, and Punjabi music fused with hip hop. DJ Sidharth on your wedding party-be assured to have a blast on the dance floor as he is known to bring the house down with his energy and beats.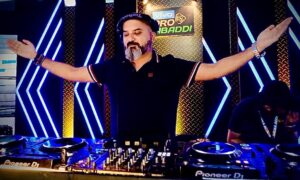 6. DJ Arjun Shah
Best wedding DJ AJ started his career at the age of 15. DJ Arjun Shah's specialization is in Punjabi, Hip hop, Bollywood, and EDM music. DJ AJ has a flexible playlist for every single event of your wedding; his beats are known for pulse spinning and can bring the house down with soul-soothing traditional chants to Punjabi beats. He is extremely passionate about his profession and well-versed in bringing the storm to the dance floor and making your big day more remarkable.
7. DJ Aarish
Aarish is well known for his extra mile performance that can bring an extra spark to your wedding events. He is the one who makes every wedding event an unforgettable one, whether it may be a Cocktail party, a sangeet night, or a reception party. His style and tracks lift the guest's mood at the wedding events. DJ Aarish is the perfect choice for an unforgettable wedding events experience.  His sense of beats and rhythm ensures that every event of your wedding is historic. As result you will feel happy with your decision.
8. DJ Alex
A wedding without a party and music seems boring. Get a kick start your wedding party with DJ Alex. Alex from Mumbai has made his place in some of the most famous event planning organizations. Played for big Bollywood celebrities. DJ Alex is perfect for destination wedding events. DJ Alex's passion for music and his excellent spinning skills takes your wedding to another level. He makes your wedding ceremony and reception night to rock on. You cannot stop losing yourself to his music tracks, and you can dance the whole night away.
9. DJ Ganesh
Ganesh is an all-rounder musician renowned for his musical power to bring the crowd to dance with full spirit all night long. DJ Ganesh electrifies your wedding party as he is a master of the house, Techno, and EDM. If you are looking for something awe-inspiring and exceptional at your wedding, check out his beats. His track records are phenomenal, and your guests can not resist sharing the celebration with you through dancing.   
10. DJ Madoc
Anuraag Chaddha, with his stage name DJ Madoc, is an engineering graduate. His love for music can be heard and seen from his spinning skills. He is a versatile artist along with his ability to kill any genre, be it hip hop, Punjabi pop, or fusion music. His tracks add plenty of cheer to your wedding event, As result put on your dancing shoes and bounce around his beats.
Contact us to book top 10 DJ IN INDIA –
Good DJ is extremely important to make your wedding so lively. In conclusion which country or city you are in, get a professional party expert to make your wedding an unforgettable event . These DJs will rock your party, and your guests will never forget. Now you have to decide which would you pick for your D Day? Click on logo on top and book these artist in a single click. We assure you 100% best service Guaranty.