How to choose Artist, DJ, Band for Wedding and Event in GOA ?
GOA, a Union territory of India, has been always famous for several things ranging from beaches,Beauty , beach shacks, and open bars. And what a place better than this to plan your wedding. Some of the most famous wedding destination venues like Riva Beach Resort, Novotel Goa Dona Sylvia Resort, Radisson Blu Resort Goa Cavelossim Beach, Zeebop By The Sea, Alila Diwa, Cidade De Goa, The Leela and many more can be explored which adds a exotic touch to your wedding. GOA is all about entertainment so you must require Best  Artist DJ Band for Wedding and Event in GOA. Book any Artist for Wedding in GOA from hire4event you will get full event support.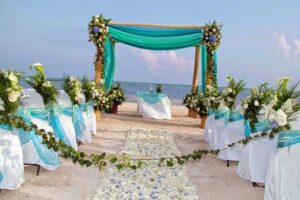 Choosing a venue for the wedding is difficult, but once it is decided, many other arrangements need to be taken care of including food, DJ, attire, decoration, etc. And how can one forget the music thrill on such a joyous occasion? It is very important to choose a professional artist, DJ, or a band on whose beat you just forget all the tensions and enjoy the present moment. We are here to guide you about Artist DJ Band for Wedding and Event in GOA.
Book DJ for event and wedding in Goa-
There are many DJ that you can book in GOA. DJ handle more than just music. Professional DJ's are well set to coordinate with the timeline of music, orchestrate the introduction and flow of events, interact with guests, and make sure they play the right song at the right time. They need to muck in with the guests and groove on the right music. It is always supposed to fill the dance floor with joyous and heart-life memories. A right DJ brings another vibe that you tune with, leading to creating mood and entertainment for the wedding ceremony.
A perfect DJ for wedding plans out everything like song planning, checking on the vibe of the night, staying on the schedule, etc. adding spice to the original music. An experienced DJ knows how long certain parts of the wedding party will take place and he/she will plan appropriately. We know your wedding DJ for the execution and enforcement of the timeline. They make an adequate announcement to ensure that events occur on time. They cover all the hip hop acts like a pro, create various mashups and song cuts, and help to choose the best songs that meet the occasion or type of people dancing.
DJ Gear and Lighting's-
Some DJ also provide the option of supplying the Sound and lighting. They arrange some smaller lighting systems that are placed on the floor and aim light upwards to highlight your tables and dance floor. Acting as a host, cruise director, and point person for the evening, they engage in making announcements and ensuring that your guests are aware of what's going on and what's next to tune on. Sometime DJ Gear does not match with artist requirement in that case you feel embarrassed so discuss about DJ technical requirement while booking.
Artist for Wedding in GOA
Big, fat weddings are well known in India. People spend endless money to form an impression on the guests and to fulfill their whims and what a better way to do so by calling a popular and in-demand artist. Live performances are a common feature in weddings these days. Asking a special artist to shake a leg at the wedding like singers, dancers, actors, etc. It sounds to be costly, but what is expensive for an elite couple planning their wedding in GOA. These days it isn't the big film stars who are on the most wanted list to ask for an appearance in the wedding, but people groove on the beats of experts performing live.
The most popular artists performing live nowadays are singers. When you are in GOA, what's better than to call a regional musician and performing artist who sings and dances to folk music. They bring a royal vibe representing the culture of the palace, which makes you feel like a king. Many Bollywood singers have shown their presence at weddings, giving a feel of a personalized concert. These bring their flavor to the wedding. Artist for Wedding in GOA is made easy by hire4event.
Booking A Band In Goa-
GOA is a heavenly place to celebrate the occasion of a wedding. A once in a lifetime experience needs to be celebrated in a way that turns all the dreams into reality. One of the best brands is available to book in GOA. The key to making any sangeet ceremony a sensational affair is adding the fun of music to it. The right notes and tunes add buzz more than just dancing, stage performances, and fun. Musical acts by top wedding bands serenade your guests with numbers and notes to ensure that this wedding experience becomes an unforgettable one! Live bands are a craze nowadays. People love to listen to different music than the usual Bollywood type, and bands perform tailored songs with a unique vibe.
Live bands provide unprecedented experiences. Musicians can exercise spontaneity by making lyrical or music changes and create different mash-ups to make their performance particularly special for your wedding. A live band adds a special touch that makes this occasion look truly authentic, that enhances up the wedding style. Live musicians are well aware of how they can gauge a crowd and know when and how they amp up the performance level. Some people have a specific taste in music like tuning in on Jazz, Pop, Cultural folk, Bollywood style, etc. So, you may call the bands according to the music you like.
Ranging from the most expensive to the cheapest musical bands are available everywhere. What matters is the quality of music offered by the bands.
Discuss about Tech-rider while booking-
Every band require equipment as per his tech-rider if the don,t get it they cant perform well and its organizers responsibility . So this is very important point to discuss about technical requirement of band like Speakers, Mixer, Mics, Amps, Sound engineer, DI Boxes, cabling, etc.
If you plan a big, fat wedding ceremony, the apt venue is GOA. Depending on the type of music and art liked and dreamt, you can convert it into reality. We always aspire to something that expresses the emotion behind the marriage. Music and dance are the best way in which you express the same. You can get plenty of options from DJs, bands, and the performing artist. That can be booked easily after hammering a little in every style and budget.
Sangeet ceremony plays a very important part of the wedding ceremony, showing the beginning of a party. Everyone has a preference from which they decide the best possible musical event, i.e. Sangeet ceremony. Some like the spice addition of DJ's or customized music of bands. Of course, there is a budget based on which you choose the highest quality service that you can afford.