Top 10 Wedding Dance Choreographers Available for booking –
Best Wedding event Dance choreographers in Delhi, Mumbai, India . Top 10 choreographers are listed here. Contact us to book them directedly. A Wedding dance choreographer plays a vital role in entertainment while lady Sangeet event and even in entire dance act of any wedding. The wedding season has already started. And if you are going to be a bride or groom soon, then you should start preparing to execute a successful grand wedding. And amongst the wedding rituals and functions, Sangeet ceremony is the most adored rite for every group whether it's kids, youngsters, adults or oldies.
Are you ready to rock your Sangeet night with some "latkes and jhatka" ? If not, then keep reading this blog. Here we will mention the top 10 wedding dance choreographers in Delhi who will change the whole surrounding of Sangeet night with their amazing dance style, movements, and choreography. Wedding dance choreographers are listed hereby you may choose any of them for any wedding, corporate event etc. for best performances.  Want to dance in-front of your relatives then Book best wedding dance choreographers.
Listing the Top 10 wedding dance choreographers 
1. Twirls and Thumkas –
This unique dance company is established by two graceful dancers, Sherry and Swati. T&T are the best wedding dance choreographers in Delhi. Swati, who is a Kathak and jazz dancer, has trained in it from amongst the best dancing schools in the country. Whereas Sherry, who is a graceful Salsa and ballroom dancer has focused more on her passion rather than her studies. This artist provide the best wedding dance choreography through her venture twirls and thumkas. They aim at creating wedding choreographies just like theatrical music production, with intricate sets, background dancers, dialogues, and more.  Sherry and Swati. have their professional team to manage wedding choreography easily and smoothly. Its a top wedding dance choreographer in country.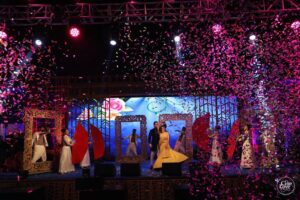 Twirls and Thumkas
2. Beats & fusion studios –
Beats & fusion studios dance company is being managed and established by Sharmila, who is a certified dance from Shiamak Dawar dance school. She has experience in wedding choreography for more than 5 years. BFS has performed at various cultural events across India. She is a well-known choreographer in Delhi for weddings, corporate events, and many more. Sharmila has been managing the beats & fusion with her partner who is also supposed to be a graceful dancer. Her venture offers a very reasonable price for organizing the best wedding choreography in Delhi.
3. Priyanka Valecha –
A trained Bharatnatyam, Jazz, Kathak, Odissi, popping, contemporary, kalbeliya, belly dance wedding choreographer, Priyanka Velacha has been doing dancing since she was 14 years old. She has been seen on TV performing for various dance reality shows. She has aching experience in dance for over 7 years. Priyanka is very demanded in Delhi for successfully organizing grand sangeet nights and anniversary functions. She charges 3000 to 5000 INR for a 2 minutes solo wedding dance performance.
4. The wedding spell –
Wedding spell dance company is managed by Gayatri Sahdev, who is a learned Kathak dancer. She started doing theatre when she was just 9 and won the child prodigy award. And when she was grown up and attained the age of 15, she became the teacher of Ashley Lobo Dance School and had done over 200 events with them. Before launching the wedding spell, she launched a forever dance studio in Delhi when she was 21. Her venture wedding spell not only offers wedding dance choreography but a complete package of wedding planning. No doubt, she is the most loved wedding dance choreographer in Delhi, you can hire.
5. Ridaa –
The venture founded by Richa Arora in Delhi, who had helped in organizing the corporate events to gain some professional knowledge about dance at Deloitte. Her love for choreography has started there which makes her quitting the job at Deloitte and starting her own company Ridaa. Before her job at Deloitte, she had never got a chance to be trained professionally, but she had learned and followed her dancing passion by participating in various college cultural events. She is also in the top list of wedding dance choreographers and her clients loved her dancing style and the way she works.
6. Beyond routine –
It is being founded by two women Anukriti and Ria, who have just followed their love for dancing. They have made dancing their lives and meeting new peoples and training them in art is what driven them in launching Beyond routine. They have started it with wedding dance choreography in Delhi and are doing exceptionally well in giving dance education across Delhi.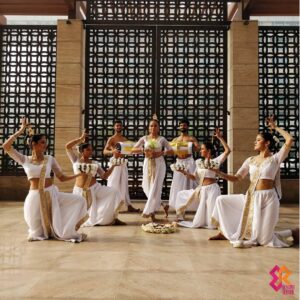 7. Zip-out –
Zip-out is launched by Runjhun who is a passionate dancer and learned dancing at Tanushree Shankar and Anand Shankar dance school. To follow her passion for dance and launching zip-out, she has left her prestigious career in finance. She is making people's life happier, by training them in dance and fitness. Wedding dance choreography is something which zip-out is executing for so long and doing well. She has won the award for the best dance school in the year 2014 at Delhi. She charges approx 80000 for organizing wedding dance choreography.
8. The yellow stripe dance Co. –
Delhi based Leading dance company founder Kamna Arora was a PR and marketing professional who loves dance very much. She had quit her job and started following her passion for dance and trained at Shiamak Dawar dance school. She was also an instructor there of dance. In the year, she left the job as an instructor and started freelancing choreography, and founded her dancing venture the yellow stripes dance Co. Along with her partner Utsav, she has been handling various wedding dance choreographies in Delhi for the last 2 years.
9. Dansync-
Today's world is all about women, so here also. Dasync is the dancing venture founded by Saloni Arora and Rupani Sharma later joined in by Madhuri. Saloni was a Bharatnatyam dancer whereas Rupani is skilled at Kathak. They don't limit themselves to these forms of dances, but rather they learned Jazz, salsa, ashtanga yoga, and Zumba. Saloni is also an interior designer whereas Rupani throughout her graduation worked as a salsa instructor. They specialize in wedding dance choreography for various dance styles such as freestyle, Bollywood, semi-classical, and more.
10. Happy feet –
This company is founded by Sanjhana who love doing dance but realized her passion for dance when she was attending Shiamak Dewak dance classes. Happy feet has been top on the wedding dance choreography list in Delhi and organizing the best wedding choreography, corporate events, and many more. She is a certified Zumba instructor and formed Happy street to continue her passion for dancing.