Most youngsters nowadays are drawn towards the idea of shaping their career as a wedding planner. Many people feel that they already have knowledge of the role, particularly if they have arranged a wedding. But planning or organizing a wedding is not at all a very easy and simple task to accomplish. The essential qualities of wedding planners play a major role in your career if you want to be a successful event planner.
Planing a marriage can be very burdensome and strenuous at the same time. Many brides keep on looking at the wedding planners to get their assistance on their biggest day. A wedding planner has to look around the multiple facets all at the same time. They make sure that all the required preparations from larger items such as the location to smaller details such as favorites on the table are all arranged properly. A good wedding planner should have the characteristics that support them in conducting their duties.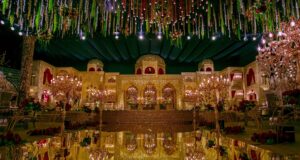 Essential qualities of wedding planners should include these basic features:
They should be well-organized
A good wedding planner with excellent time management skills and multitasking expertise is considered better than the rest. Wedding planners must be able to work together on several different partnerships, and should be expert in preventing confusion around. For the weddings which they serve, they must be very coordinated to keep track records of every important document, and papers. Wedding planners, generally, spend several months planning a wedding. But sometimes that time period may only be of a few weeks, and a good wedding planner must be able to work under pressure and catch the early deadlines.
They should possess sufficient knowledge about the service
Wedding planners must be very passionate about their service and should be well acquainted with everything they do.  Most people prefer affordable weddings, and wedding planners have the knowledge of how to get the best deals in their field and save time at the same time. The task of the wedding planner also includes a quick catch up with all of the local vendors around. They do this in order to deal with the suppliers that better fit the needs of their clients.
They should have interpersonal skills
Good wedding planners possess excellent leadership skills that help them to communicate with everyone involved in the party. They will be able to work under strain, manage to be polite, positive, and eager towards their work. Marriages carry out people's best and worst emotions. And a wedding planner calms the nervous brides, avoids jittery grooms, and calms parents ' emotions.
Essential qualities of wedding planners include creativity
Creativity is the artistic quality that every good wedding planner should possess.  Today we can see how every couple wants their marriage to represent their personalities and switch to wedding designers to help them create something unique. Although you may decide to employ a planner to help you out. But, you will definitely need to start with a concept of hiring a planner/designer to get succeeded.  To be imaginative is to be willing, and to create something amazing with a seed of a concept is always responsive.  Couples today are extremely fortunate to get hold of such a team of professionals. Wedding planners can readily transform their wedding day to be a memorable one.
They should possess a killer communication
Communication plays a crucial role in a wedding to run successfully. It must be both clear and concise, but it must also be motivational. Moreover, it supports you if you are charming the socks off everybody, from bargaining beforehand with vendors to handling the mother of the bride on that day. It will help you get better rates, make favors, as required, and will help you to gain more recommendations and will have high chances to be recruited. Remember, a lovely smile goes well with a firm hand. Moreover, you will also have bags of experience as a great wedding planner.
They should have great imaginative power
The preparation of activities may also be very easy, routine. When you operate on a certain brief or are subject to client guidelines, then creativity and innovation might not be enough. Yet two things are not the same, so there is still ample space for organizing something different. Nevertheless, the two things are not the same, so that something new can always be made. The fresh creative proposals for your activities would differentiate them, be it an innovative concept, a special venue, or an inspirational guest. You still need to be flexible and creative to make the most of your brief even if you're constrained by the demands of your customers; staying in contact with industry trends can help keep them excited.
They should have the leadership qualities
Capabilities to operate a team are a critical competency for any position. But becoming a professional, you may lead your own squad. Although there are some event professionals who can able to lead instinctively, it is such an ability that can be developed over time. You don't qualify as an extrovert immediately. Everybody can learn to inspire or to set up a team, even if you're not inherently authoritative or strong. Your innate personality and characteristic features can play a part, but in the end, it will rely purely on your enthusiasm.
Why should you hire a professional for the biggest day of your life?
It's important to note that the ability to manage everything does not come so easily to some people.  People who have such leadership attributes with a dose of ample commitment can only result to be a successful wedding planner. They should acquire the willingness to learn from everywhere around. A wedding planner is such a professional personality who can assist you in planning your wedding. This specialist has the expertise and connections needed to make the day effortlessly fall together from manufacturers, products, the logo, and even the smallest information. Not to mention that recruiting a wedding planner can mitigate you from the tension that usually originates during a wedding.