In India, a wedding is the most wonderful event not only for the bride and groom but for all near and dear ones. From family to friends and neighbors, closed ones start preparing for the big day months before. The whole ceremony is a combination of centuries-old rituals, embroidery clothes, magnificent jewelry with lots of blessings. Music and food also reflect a fusion of culture and trend. There is a list of pre-wedding rituals that involve the active participation of family members, friends, and society. As soon as you decide to get married there are lots of things on the list to get fulfilled. The themes for wedding should be one of them.
To make this grand celebration successful, families and relatives gather before months. Now people want something special at their wedding ceremony that follows all the rituals and mark something unique at the same time. From a cruise to the royal palace, Bollywood has left us with a bunch of ideas for destination weddings. Note here; now the middle-aged women are not seen worried and tired at weddings; they are well aware of the fashion and dance numbers. Thanks to the television.
Celebrate their enthusiasm with a well-planned theme. Moreover, charming decorations that keep the guest gasping in wonder will make your vision a reality.
Some of the unique themes for wedding
Since Indian weddings have many rituals, a perfect idea for themes for wedding reflects from every corner. From entrance and tables to mandap and stage, everything has a touch of the theme.
New or old, Gold is Gold
Give a Midas touch to everything. Mesmerizing Golden walls and golden entrance. Serving in golden glasses and plates will give a royal touch. You may also use some traditional artisan decoratives. A touch of pink or silver will highlight the decorations. Golden backdrops with colourfull flowers are picture-perfect every season. A golden fountain in the center will draw the attention of everyone. Draping the chairs and pillars in golden will complete the arrangement.
Flowers everywhere
Although flowers are one of the essential things for a wedding, a flower theme will add color and life to the wedding. You can choose a combination of two different flowers or mix more than one variety of flower. Offer flower bands for the wrist and forehead to the guests. A stage decorated with flowers is common, but you can drape the seats of the bride and groom differently. Decorating a food table with edible flowers will be a unique thing. Welcome guests with a flower. Make sure; you don't end up with a mess. Order fresh flowers and avoid this theme in a too hot climate.
Bollywood theme: one of the best themes for wedding
No, here we are not asking you to dress up like Mogambo or Gabbar. You can get inspiration from Rajshree productions or Karan Johar. You can create a movie scene also like the bride asking-"Hey, Rahul mujhse dosti karoge?" There are numerous Bollywood wedding songs that you can play in the background. It will not take many efforts and is budget-friendly. It will be nice to see your grandfather as Amitabh Bacchan of Mohabbatein.
Bring Cartoon characters from the entrance to inside
A cartoon character at the entrance entertaining kids is a common thing we see at weddings. But you can incorporate this idea into the theme also. Love is not all about gifting teddies, invite the favorite cartoon character of your would be in the wedding. Kids will love that. Elders will find it unique, and youngsters will find a selfie point. Imagine Motu Patlu doing the bhangra with you. A unique mix and match. Welcome the bride with a video of a Disney princess in the background.
Show your love for nature-Go Green
Interesting theme. Days before a wedding, elders start looking for leaves of banana, mango, beetle, Ashoka, and more. It shows how much we depend on nature. Let this love for nature reflect in your theme. Use traditional leaf bandanvars. Serve your food in banana leaves or plates made from it. The decoration is very easy. Drape the pillars with leaves. Add marigold garlands or flowers of your choice to add contrast.
Romantic garden themes for wedding
This theme is most suitable for Christian couples. It is beautiful watching them together, walking hand in hand. There can be wildflowers in the garden or decorate them according to your wish. You may also use heart-shaped balloons for decoration. If the weather is suitable, plan the lunch or dinner outdoors.
Journey so far
This theme requires a series of photos and videos of the bride and groom from childhood till now. You can use them as a slideshow also. A couple of projectors will be enough. If the picture of pre-wedding functions like mehndi, sangeet, and haldi are available, use them. If there were a pre-wedding photoshoot, it would be a show-stopper.
Destination wedding
One of the most desired wedding ideas. You don't have to put much effort into that. It requires the help of a professional planner. They will provide you a list of destinations, or you could tell them about your choice. From booking the destination to travel and stay, a professional planner will look after everything. Choose the destination according to the budget and climate.
Social service lovers
It's a unique way of sharing your happiness with people who long for it. An old-age home or an orphanage could be your destination. Many children have never seen a wedding, and many elders miss it. Book a venue or if there is enough space, make arrangements there. Spend less in decorations, instead gift them something unique and useful. Involve them in ceremonies and dance. You will get blessings and some unforgettable memories.
Mughal darbar themes for wedding
Amidst rules and norms, Muslim weddings have all the fun. Give a royal touch to it. Hire professional qawwali singers to engage t. Wrap the bolster pillows in golden. Give the furniture a royal look. Ask the welcome team to greet guests with flowers and perfume. You can use handy fans and statues of elephants for decorations.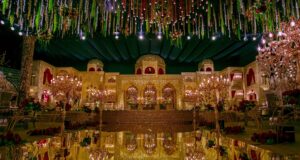 These are some unique ideas to make your wedding a memorable event. You can add some creativity or match two themes together for a change. However, the rituals are the same; the way is different.