Here is list of top Marathons in Delhi NCR. Sports Events in Delhi, Gurgaon, Noida to attend to make your day memorable. Delhi NCR, the bustling metropolitan region of India, is not just known for its historical monuments and vibrant culture but also for its thriving marathon scene. Whether you are a seasoned runner or a novice looking to challenge yourself, Delhi NCR offers a plethora of exciting marathons that cater to all levels of fitness enthusiasts. In this guide, we will take you on a journey to explore some of the best marathons in Delhi NCR, providing you with valuable insights and recommendations to make the most of your racing experience.
Delhi NCR, with its dynamic urban landscape and enthusiastic running community, offers an array of marathons that are sure to excite any runner. Whether you are looking for iconic routes, well-organized events, or a chance to explore different parts of the region, the marathons in Delhi NCR deliver on all fronts. Lace up your running shoes, set your goals, and embark on an unforgettable journey through the best marathons that Delhi NCR has to offer.
Here is list of top Marathons in Delhi NCR. Sports Events in Delhi, Gurgaon, Noida to attend to make your day memorable.
1. Delhi Half Marathon:
One of the most prestigious marathons in India, the Delhi Half Marathon attracts participants from across the country and beyond. Held annually in November, this race takes you through the iconic landmarks of Delhi, such as India Gate, Rajpath, and Connaught Place. With various categories to choose from, including the Half Marathon, 10K, and Great Delhi Run, this event offers a perfect platform for runners of all abilities to test their limits and soak in the electric atmosphere of the capital city.
2. Airtel Delhi City Half Marathon:
Celebrated in February, the Airtel Delhi City Half Marathon is another popular race that showcases the vibrant spirit of Delhi. This event takes you on a scenic route through the heart of the city, with the start and finish line located at Jawaharlal Nehru Stadium. With its professionally organized setup, enthusiastic volunteers, and a range of categories, this marathon provides a memorable experience for runners seeking a well-rounded racing event.
It is an (AIMS) Association of International Marathons and Distance Races certified marathon event. ADHM is an annual foot race held in Delhi. This foot race event established in 2005 for the mass participation and elite runner category. It takes place in the month of October every year. The marathon is organized in Jawaharlal Nehru Stadium in New Delhi.
 7 KM Great Delhi Run
4.3 KM run for senior citizens
3.5 KM wheelchair race
3. Noida Grand Marathon:
Located in the neighboring city of Noida, the Noida Grand Marathon offers a unique opportunity to explore the fast-developing urban landscape of NCR. This marathon, held in January, features multiple race categories, including the Full Marathon, Half Marathon, and 10K, catering to participants of different fitness levels. The race course takes you through the wide roads and green landscapes of Noida, promising a refreshing and invigorating experience.
4. Gurgaon Running and Living Marathon:
Known for its corporate hubs and rapid urbanization, Gurgaon is also home to the Gurgaon Running and Living Marathon. This event, organized by the Running and Living team, is held in December and attracts running enthusiasts from various walks of life. With its focus on promoting a healthy lifestyle and community participation, this marathon offers a well-organized race experience combined with a strong sense of camaraderie among participants.
5. Dwarka Half Marathon:
For those residing in the southwestern part of Delhi, the Dwarka Half Marathon is a local favorite. Taking place in October, this race celebrates the vibrant community of Dwarka and its surrounding areas. The race course showcases the beauty of this well-planned sub-city, offering a mix of residential sectors, parks, and commercial areas. With a supportive crowd and a friendly atmosphere, the Dwarka Half Marathon provides a fantastic opportunity for runners to embrace a sense of community and achieve their personal goals.
6. Devils Circuit –
Devils circuit is the property of Volano entertainment Pvt Ltd founded by Adnan Adeeb AND his wife Zeba Zaidi. Dubai return couple came back to India and started their own venture in fitness. This event is different from other marathons basically it is an obstacle race running event.
There are 15 obstacles Devils Circuit –
AGRPHOBIA BUSTER
Alpha Thrill Trail
Brain Freeze
Dark Tunnel
Devils Swing
Go The Distance Pit
Reach Across
Reach The Sky
Roller Of Hell
Sea Of Poles
Summit
Swift Riser
Deadly Duo
The Wonder Dome
UP AND OVER
The event take place in Delhi, Bangalore, Chennai, Mumbai, Pune, and Mohali. In this event top corporate houses employees participate to show their endurance. Devil circuit held twice in a year in each city one big event and another one small event called devils circuit arena.
7. Tuffman Gurugram Half Marathon
It will be very first edition of Tuffman Gurugram Half Marathon in April 2019. It will one of the best marathons in the Delhi NCR region. Every runner will get Tuffman Goddies ( Tuffman Visor & T-shirt), Finisher Medal, Post Race Refreshments & E Certificate.
When: Sunday, 21st April 2019
Where: DLF Cyber City
Race Categories –
21 K – 05:00 Hrs
10 K – 05:30 Hrs
5 K – 06:00 Hrs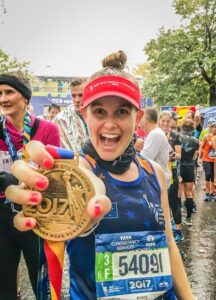 7. Millennium City Marathon Gurugram
To change the mindset of outsiders about Gurugram City. Millennium City Marathon is here to color the city with a healthy lifestyle and showcase an example for others by being a healthy and fit city. MCM is founded and introduced by Iron-man Abhishek Mishra, the 1st Iron-man from UP. He is Triathlete, Ultra-Runner, Marathoner, Motivational Speaker. Abhishek started this marathon event to spread awareness about a healthy lifestyle in people among Gurugram City.
8. Noida City Half Marathon
This is the property of Grow On Foundation. The aim of this event is to create awareness in running among the youth of the city. And especially for those who come from an Economically underprivileged section of the society, helping them in their education and work for their upliftment.
It takes place in March month and held at Decathlon greater Noida, Decathlon greater Noida, NOIDA, Uttar Pradesh.
Race Categories-
21 KM 900. (18+ open) Timing chip
10 KM 800. (12+ open) Timing chip
05 KM. 700. (10+ open) Timing chip
03 KM 500. (05+ open) Without chip
9. IDBI Federal Life Insurance New Delhi Marathon
This marathon event is the property of NEB Sports. It is organized in the month of February. This marathon held in Jawaharlal Nehru Stadium New Delhi. The participant should be of 18+ years old For the Full and Half Marathon. Most noteworthy  all minors must be accompanied by adults for the 5K Fun Run.
10. Amity Gurgaon Half Marathon
Amity Gurugram Marathon (AGM) is an initiative of the Amity Educational Group. This annual marathon event held in Gurugram, Haryana. This event was a Half Marathon till 2017, but the great response, enthusiasm & participation of professional runners from more than 20 countries led us to change it into a Full Marathon event with some additional race categories.
Race Categories –
FULL MARATHON(42.2 KM)- Age Above 18 years
HALF MARATHON- (21.1 KM)-Age Above 14 years
10 KM CATEGORY- Age Above 12 years
5 KM CATEGORY- Age Above 12 years
5 KM – KIDS RUN- Age between 6- 12 years
SENIOR CITIZEN RUN-(5 KM)- Age above 60 years