Best Bride Entry Ideas which will catch the eyes
Unique bride entry is a dream for every girl here are best Bride entry Ideas. Every bride dreams of a striking entry on her wedding occasion by wearing a beautiful bridal Lehenga and the right collection of baubles. And of course, it should be like that as it is one of the special moments of every girl's life where all eyes stop over the bride. All the guests impatiently wait to have the first glimpse of the beautiful bride dressed in her bridal wear. Therefore, every bride should make sure that her bridal entry is stunning, dreamy, and unique. If your wedding date is near, why don't you grab some new and astounding bridal entry ideas from this article? Go through the below-given list and discover the best bridal entry tips for your wedding.
1. Bridal Entry with Your Parents
Definitely, for the equal love and affection showered, your parents deserve to be a notable part of your astounding bridal entry from your end. Also, you can show respect and gratitude towards your parents in this. Nowadays, it is a new trend to offer a remarkable bridal entry with your mom and dad to your loving guests. However, it means a lot more than a trend as it is a precious moment to grab for every bride. So make everyone stay back and allow your parents to be a great attraction in the special event of your life. This is best one Bride entry Ideas .
2. Allow Your Pets Announce Your Glorious Bridal Entry
If you have a pet, then it is a plus note for your unique bridal entry. Isn't that amazing to make a significant bridal entry with your furry pets? You can catch the attention of most guests, and can also spend some quality time with your loving pets before you get into a new life. Turn your pets into the best ones on a special day and enter the marriage avenue with pride. It is best one Bride entry Ideas which connects your parents emotion.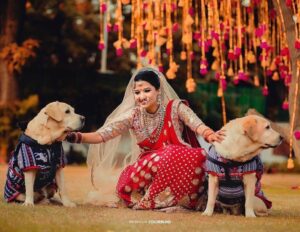 3. Make Your Entry Traditional under a Shaandar Phoolon ki Chaadar
When it comes to trendy bridal entry ideas, we usually think of brides dressed in their attractive bridal Lehenga and sparkling jewelry walking under a beautiful Phoolon ki Chaadar. From the phrase "Phoolon ki Chaadar", you might have come to know that it is about Indian bride's entry, especially North Indian brides. Whereas, some might make use of traditional Dupattas hanging with Kaleeras for a beautiful bridal entry. Many go with those woven with different flowers and umbrella Phoolon ki Chaadars. However, you can feel free to ask your decorators to make your Phoolon ki Chaadars more attractive than any other.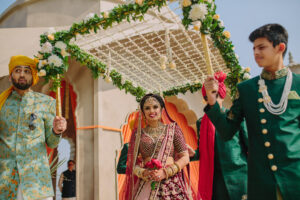 4. Make an Awesome Bridal Entry in a Boat Ride
Do you wish to have a beach-side wedding? Then, you can take a unique bride entry with a boat ride. Certainly, it is one of the best heart-winning bridal entry ideas with no-doubt. Take your Indian bridal entry to the next level by dashing through the blue beach waters in huge motorboats. It can be the most exciting bridal entry to the Mandap. This idea will blow the minds of the guests. Above all, you can take the help of your decorators to provide you with the best glorious boats.
5. Make a Grand Bridal Entry with Your Better Half
Even if it is you who need to make the entry, you can take your man of dreams with you to make a spellbound entry together with the Shaadi Mandap. Even though this idea is quite simple but it can make an everlasting moment of your life by walking hand-in-hand with your better half under a beautiful Phoolon ki Chaadar or with some astonishing fireworks.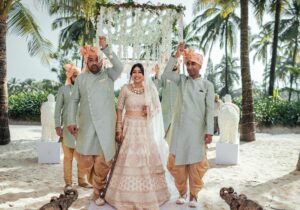 6. Walk Down the Path with Your Gang of Girls
After your parents, it is always your girl gang who escort you to the Mandap. Those lovely ladies contribute in all the possible ways to make you look gorgeous and all other bridesmaids' duties during your wedding occasion. They are the ones after your parents who make your bridal entry marvelous. It has been noticed that the bride's girl gang also holds Phoolon ki Chaadar by taking a stand of men.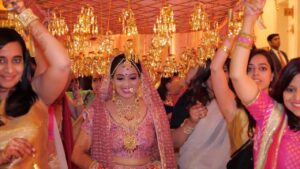 7. Enter in a Vintage Car for a Classy Bridal Entry
When you surf the internet, you can come across various stunning and latest bridal entry ideas. You can encounter a classy bridal entry to the Mandap in vintage cars. Brides look sizzling making their way to their men's lives in vintage cars. It could be a great experience for brides and a surprising moment for all the guests.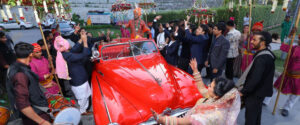 8. Be a Princess Arriving on a Fancy Rath
On your big day, you can arrive like a princess on a fancy Rath to impress your man. Making an entry in spectacular Raths and Palkis will not only help to impress your groom, but also catch the attention of the entire crowd. You can feel like a royal queen at your wedding and leave your friends and guests enthralling. You should certainly try out this idea to make your bridal entry grand.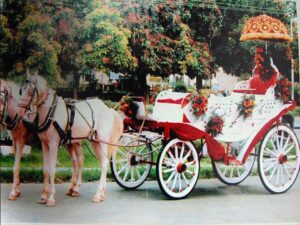 9. Make the Way Dancing to the Mandap  
The beautiful brides can reach the Mandap by making different dance steps. Dancing brides are always considered the prettiest ones. You can make a gang of your friends & family members and arrive dancing to your Mandap. Also, you can opt for Bollywood numbers or soft romantic tracks to perform for your beloved partner. If you want to be a stunning dancing bride, you need to select the right song. Moreover, you can even make use of accessories or properties without any shyness.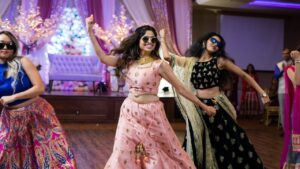 10. Have a Swagger Bridal Entry on a Scooter or a Bike
If you want to make your bridal entry stylish, you can arrive at the Mandap on a bike or a scooter. This way, you can make your bridal entry classy. At your special event, you can go out of the box and reach your wedding venue on a bike. It can be your swagger bridal entry than ever found.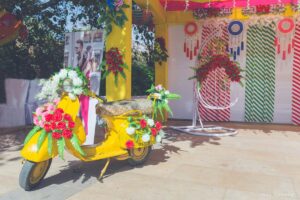 Conclusion:
So, these are the striking bridal entry ideas that you can opt for your wedding. No matter what bridal idea you choose from the above list, you have to be the best in a particular one on your bid day. Thus, save your time from digging into the internet searching for bridal entry ideas and avail yourself the sparkling one for you from the above listing.