Importance of Catering in Events and Wedding-
When you are planning an event, then keep one thing in mind that food is most important than everything because if food is not good everyone will figure it out. In our country, everyone wants good food. So while planning any event nobody can ignore the quality of food. Entertainment and decoration are secondary because some will like it but someone will not. Here we have listed some Top Caterers for Corporate Events, Outdoor caterer, from Delhi NCR.
Top Caterers for Corporate Events-
1)TAB – The Anonymous Bartenders House-
TAB is Delhi based one of the top corporate event caterers provides extra premium services in foods, Beverages, Alcohol, cocktail, cuisines, etc. They have an expert team who traveled across the world who experienced international food standard and cuisines. The company is expert in liquor-serving have a rich catalog in mocktails made by renowned brands. TAB offer end to end services in corporate events, family celebration, event and corporate parties, theme design for Bar, etc. TAB provides consulting services in Bar Ideation, cocktail mix, training supports, workshops across the country.
Address- B-103B, Paryavaran Complex, IGNOU Road Saket, New Delhi-30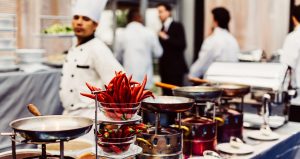 2)FOOD INC-
An unit of yum yum tree Food Inc is Gurgaon based one of the caterers for corporate events, wedding, birthdays, social events. They are expertise in Indian, Pakistani, Coastal, European, American, Japanese, Chinese and Thai food across North India. Food inc team is very professional in term of services, food taste. Diverse food and flavors of our country menu they have is an innovative amalgamation of cuisines from the East and the West. Its specialty is Kolkata street style Lake Aloo Dum replete with a tangy taste, fragrant spices, and sheer nostalgia is soul food that will nourish your palate, senses & soul.
They care little things to a big one in taste, cleaning, decor, theme, guest, quantity, etc.
Address- TULSI House, 90 Udyog Vihar IV, Gurgaon, Haryana 122015
3)Fork  'n'Spoon-
A Nijhwan group company who are niche player in hospitality, airline services, the company provide services for British Airways, Kingfisher Airlines, and Fly Dubai. British Airways etc. Fork'n'Spoon is Delhi-NCR's premium catering services company. We offer our culinary specialization to make all your events an occasion to remember. Its mouthwatering food will make you fan of that fork n spoon.
Address- Plot No 728, Udyog Vihar Phase – V, Gurgaon, Haryana – 122016, India
4)Basil Kitchen-
Basil kitchen is an outdoor catering company, specialized in premium wedding, corporate events, private parties, special events, one the famous caterer provide services for 50 to 1000 Pax. They are able to cook food at the site and also can serve ready to eat foods. Can give menu as per event attendees like Japanese, Thai, Chinese, Korean, western-like American, Arabian, Mangolian, pizzas, etc.
This  kitchen is tremendous with more than 300 items where you may choose whatever you want. All of our food is prepared from the freshest ingredients delivered from specialty food growers and purveyors around the country and world. Whether the event is a formal French-service dinner, an authentic Texas-style barbecue, a client luncheon for fifty, or a glorious gala of more than 2,000 guests, The Basil Kitchen has the imagination and expertise to make the event sensational.
Address- Plot no. 3, Khasra No. 189, Ist Floor, Village Kakrola, New Delhi.
5) 4 Seasons Caterer-
The big name is catering 4 seasons is Gurgaon based company have an unbeatable track record in hospitality. They are official caterer for India Exposition Mart Greater Noida. Where they provide services in every premium class events like Auto-expo, Home-expo, Print-pack, Delhi fair, Indus food, IHGF and many more world-class exhibition. Four seasons have a big in-house team in cooking, serving, hospitality, decoration, etc. They will make you happy once they will serve you anywhere.
Address- 02 A, 4th Floor, JMD Regent Plaza, MG Road, Gurgaon – 122002.
6)Wisdom Rasoi-
Wisdom Rasoi can serve you Traditional to International cuisines, for any occasion. Have experienced team who have served 100+ corporate events and wedding across north India. Wisdom is famous for wedding catering, Corporate catering, because of its services, and the latest styles of serving food menu. Specialty in Dilli-6 food, traditional south Indian, Gujarati, Rajasthani, Punjabi, Mughlai, Goa coastal, cuisines they come under 5 in top caterer in Delhi NCR.
Address- 206, Allied House, 1 Local Shopping Centre, Opp Madangir Village, Pushp Vihar, New Delhi, Delhi 110062.