Book top Punjabi Singers for Wedding and corporate events-
Youths of our country love to listen Punjabi Music and here we are talking about top Punjabi Singers. India has always been appreciated for its different cultures and traditions. Indian music has always been appreciated worldwide. Variation in music like folk, popular, pop, classical, and many more. Music is a tradition which is coming from ages and being developed. Indian music is classified into two types one is Carnatic and one is Hindustani music. Hindustani music has the most listeners from the northern part of India. It has been mostly appreciated by people from Delhi, Lucknow, Kolkata, and Varanasi, etc. Carnatic music has most of its listeners from the southern part of the country. It is considered to be the purest form of music.
The music that is played in Punjab and its nearby places has traditional instruments involved in it. The songs are created with lots of emotions and love in them which is well appreciated in it. Most of the part songs and wedding songs come from the Punjabi singers.
Punjabi singers fill in the song with energy and their extra energy and emotions are well felt in every song whether it will be related to some songs on bravery or romantic. Audiences and listeners are well connected.
Some famous Punjabi singers are listed below ( This is not Rank of Singers )
1. Diljit Dosanjh-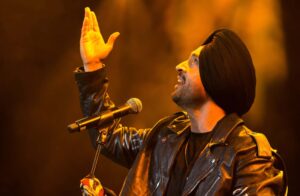 He is an Indian artist, entertainer, and singer who is working in Punjabi and Hindi cinema both. He has acted in many Punjabi movies, in which most of them have been a hit. Dosanjh had released his first collection in 2004 'Ishq da uda ada' with finetone cassettes, a division of T-series. He had grown up learning music from Gobinder Singh alampuri and Kartar Singh. He later had a collaboration with honey Singh which brought an alternate style to his music.
Some of his famous songs are:
2. Yo Yo honey Singh-
Hirdesh Singh is known by his popular name "yo-yo honey Singh". He is a composer, rapper, Indian music composer, pop vocalist, and actor also. Started as a recording artist and later became a Bhangra music maker. Soon after his mini success, he started making tunes for Bollywood films. He is the highest paid singer in the Indian music industry. He likes to sing both in Hindi and in his local language Punjabi.
Some of the famous songs by him:
3.Gurdas Maan-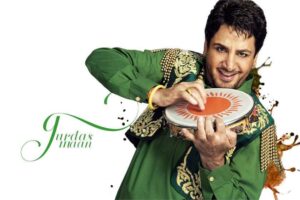 Gurdas Maan, born in Giddarbaha town in Punjab. Is famous for bhangra and folk. He had come to notice after the release of ' Dil ka mamla hai'. Mann Paji made a record of making more than thirty albums and had written more than three hundred tracks. He had also received an international award for the best international album in 2009 at UK Asian music awards.
Popular songs sung by him :
4. Hardy Sandhu-
He is a well-known singer and rapper. His songs have depth in them and have feelings written and performed well. He is one of the biggest sensations in the music industry. Started as a studio artist and later started producing and singing songs himself. He was highlighted after his song 'soch' in 2013 and 'joker' in 2014 which was a super-duper hit. These hits gave him enthusiasm and boosted his confidence to create tracks for later. His many songs have been remade and used in many Bollywood movies.
Some of the famous songs :
5. Millind Gaba-
Has been brought up in Delhi. He has worked as a label of T-series. And debuted in 2014. His debut album 'Nazar lag jayegi' was an instant hit.
Some of his songs
 6. Guru Randhawa-
Guru Randhawa is Indian Top Punjabi Singer, song writer associated with Punjabi, Bollywood Bhangra and Indi-pop music. Know for his songs Suit, High rated Gabru, and Lahore. He is one of the most liked Punjabi artist got chance to perform globally.  Gursharanjot Singh Randhawa aka Guru Randhawa started his career with some small shows in Gurdaspur Punjab. He was named by most famous rapper Bohemia after he kept his name " Guru Randhawa" .
Top songs sung by him :
7. Badshah-
Aditya Prateek Singh Sisodia, popularly known by his stage name Badshah. He started his career with yo yo honey Singh, later in 2012 he split with him and same his first Bollywood song 'Kar Gayi Chul' for Kapoor and sons.
Famous songs by him:
 8. Daler Singh Mehendi-
he is an Indian vocalist, lyricist, and composer. He made bhangra famous in the world. 'Bolo ta ra', his famous album, has sold more than 20 million copies. This album made him a star. He is one of the most ever famous Punjabi Singer.  Daler Mehandi have done more than 1000 Stage performances around the globe. He is most booked Punjabi singer too for wedding, college fest, and corporate events.
His Famous Songs are –
Jiyo Re Bahubali
Tunak Tunak Tun
Bolo Ta Ra Ra…
Ho Jayegi Balle Balle
Nach Baby Nach Kudi
Aila Re Aila
Zor Ka Jhatka
Sajan Mere Satrangiya
Dangal
Na Na Na Na Re
Katto Gilehri
Kala Kauwa
9. Mika Singh-
Mika Singh is one of the most popular Bollywood Punjabi singer have given many songs to Indian Hindi film industry. He is very good stage performer regularly performing around the globe. He have great experience in performing in college fest, wedding, and corporate events. Mika Singh Have done many sold out concerts in Delhi, Chandigarh, Pune, Mumbai etc. He owned many awards in Bollywood for his voice.
His famous songs are –
Dil Mein Baji Guitar
Nachle Soniye
Mauja Hi Mauja
Ganpat
Oye Lucky! Lucky Oye!
Singh Is Kinng Singh Is Kinng
Bhutni Ke
Saawan Mein Lag Gayi Aag
Aapka Kya Hoga
Dhink Chika
10. B Praak-
" Teri Mitt" fame B Praak aka Prateek Bachan is one of the versatile singer and music composer  in Punjabi and bollywood music industry. He started his career as a music producer, and later debuted as a singer with the song Mann Bharrya.  Now he is become very famous in youths so he is performing in many college fest, concerts and wedding event.
Some of his famous songs are –
Bhare Bazaar
O Saki Saki
Dholna
Teri Mitti
11. Jassi Gill-
Jassdeep Singh Gill aka Jassi Gill is very famous Punjabi and bollywood singer. His first debut was done in Pujabi film Mr and Mrs 420 in 2014. His first hindi film was  Happy Phirr Bhag Jayegi in 2018. Jassi is one of the most talented stage and live event singer done many shows in India, UK, USA, Canada etc.
His Famous Songs are-
Batchmate
Vigre Sharabi
Batchmate 2
Lancer
Classmate
Bapu Zimidar
12. Mankrit Aulakh-
Mankirat family name Mani was initially a Kabaddi Player and he was part of Wrestling till 2013. He used to sing in College fests and events. His friends insisted to opt singing as career Mankirat Started his career in 2013 with the song "Darshan Karke"  with DJ Sanj and he become one of the top Pujabi Singer after that.
His Best songs are-
Kadar
Jatt Da Blood
Gallan Mithiyan
Chandigarh
Jail By Mankirt Aulakh
Gangland
Charda Siyaal
Kuwari
Harley 7 Lakh Da
13. Neha Kakkar-
Big name in bollywood Neha kakkar is an Indian playback singer started his career from Indian Idol-2 in 2006. She has sung for many movies and worked hard for the place she is in today. She has seen a lot of struggles in her back days But Neha is one of the most famous female singer in Bollywood these days. Now she is Judge of Indian Idol. She lent her voice in hindi and Punjabi music industry too.
Some of Her songs are –
Mile Ho Tum
Gali Gali
Coca Cola
Aankh Marey
Dilbar
O Saki Saki
Ek Toh Kum Zindagani
London Thumakda
Main Tera Boyfriend
Garmi
Oh Humsafar
Lamborghini
14. Sharry Mann:
Surinder Singh Mann, popularly known as Sharry Mann. He was born in Mohali, Punjab. He started his career by posting his small videos on social media and later had sung many famous songs which were well appreciated by listeners.
Songs were sung by him:
15. Ranjit Bawa-
he was born in Gurdaspur, Punjab. He was interested in singing and had won many awards in many competitions but had to wait for fifteen years to achieve a hall of fame, but his patience paid off and later had sung many famous songs.
Famous songs achieved by him-
'Yaari chandigarh waaliye'
16. Ammy Virk-
he started his career with a single track which became a success. Later, he sang many songs "yaar amli" and " jaaat da Sahara" which opened his gates in the music industry.
His most known song is "qismat" which was released in 2017.
His famous songs are –
Taara
Wang Da Naap
Haan Kargi
Gallan Teriya
Jaan Deyan Ge
Pasand Jatt Di
Ikk Pal
Taare Balliye
Mini Cooper
17. Parmish Verma-
he went to Sydney to get a diploma in hotel management. But later he dropped out and came back to India to seek a course in the field of acting.
While doing theatre for around ten years he shot to fame in 2017 with the tune 'Gaal ni kadni' this song earned 118 million views on youtube.
Some of his famous works:
18. Jass Manak-
Jass Manak got fame from Youtube for his Punjabi songs. Apart from singing he is a good song writer too he wrote song kala surma for jassi gill. He become famous for the song Prada, Suit Punjabi, Lehanga, Viah and Boss. His single "Lehanga" has featured on the UK Asian Music Chart. He is one of top Punjabi Singers in the list.
His famous songs are –
Prada · 2018
Lehanga
Suit Punjabi
Girlfriend
Rabb Wangu
Butterfly
Viah
Gal Sun
Yaara Tere Warga
Chehra Tera
Shoot Da Order
Yaarian
19. Satinder Sartaj-
Satinder Pal Singh aka Satinder Sartaj is very popular Punjabi Singer, people love his songs.  He have performed globally for many concert, wedding and college festivals. his well known for his top tracks:
20. Surinder Sinha-
His first song "ucha Burj Lahore da" was my favorite of all. He has released more than forty films.
Some of the hits:
All of above artist can be booked on hire4event. Just click the link –  Book Punjabi Artists.